Dundee City Council's Northern Links proposal has been shortlisted in the multi-million-pound active travel design competition, Community Links PLUS 2018.
The council proposes to create three strategic cycle routes connecting the city centre and the communities to the north-east and west.
These routes would form a joined-up network and cross the city's inner ring road to encourage more people to walk or cycle to the city centre and Waterfront.
Having been shortlisted, Dundee's plan has been awarded a grant of £50,000 from Transport Scotland to further the idea for the next stage of the competition. That will include extensive engagement with communities and stakeholders and developing designs.
Each project is expected to begin further development of the proposals within the next month with the judging stage of the competition set to take place in April 2019.
Councillor Lynne Short, Dundee City Council city development convener, said: "This is an exciting win for Dundee as we look to offer more opportunities for people to cycle and walk safely around the city and beyond.
"Reaching the next stage of this process will allow us to further develop our ideas and consider options on how to improve multimodal connectivity between the centre of the city and communities."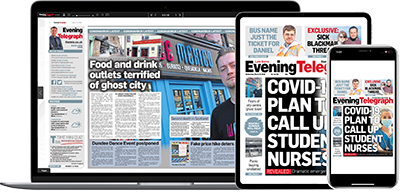 Help support quality local journalism … become a digital subscriber to the Evening Telegraph
For as little as £5.99 a month you can access all of our content, including Premium articles.
Subscribe