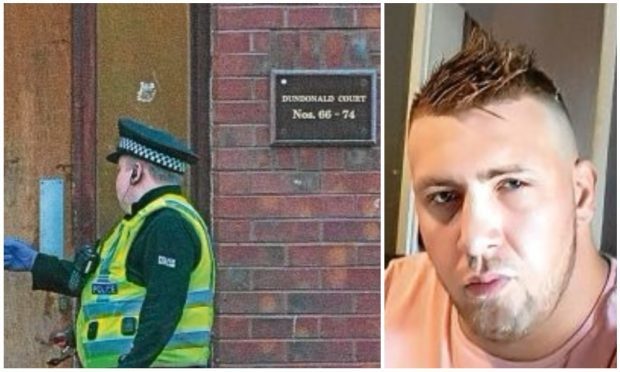 Two party-goers hid behind a wall in a stairwell trying to reason with man who was firing arrows at them shortly before one of them was killed, a court heard.
Jason Sinclair recalled the moment his friend Gordon Diduca was stabbed to death after they had tried to wrestle a bow and arrows from the alleged assailant's grip.
Mr Sinclair, 22, described a scene of chaos as he gave evidence in the trial of Charles Little at the High Court in Glasgow.
Little, 32, denies firing arrows from a bow at Mr Diduca and others at Dundonald Court in the early hours of September 25 2017, before striking Mr Diduca with a knife and killing him.
The court heard a group of friends were at a party before one of them announced that a neighbour was outside the door with a bow and arrow.
Mr Sinclair said: "At first I didn't believe it. I went to the door and opened it, and he (Little) was standing there.
"There were lots of holes in the door where he'd been stabbing it.
"I slammed the door shut and held it, and he was still trying to come in.
"Then I heard him and Gordon arguing in the close – I hadn't seen him go out that door.
"I went out and saw Gordon standing at Charles' door and he (Little) was standing with an arrow pointing at Gordon, saying he was away to shoot him.
"He was speaking proper nonsense, saying we had been spying on him. He said it was our fault he had lost his girlfriend and his job.
"I'd never met the boy in my life, and me and Gordon were both trying to tell him that. Me and Gordon were hiding behind the walls in the closie and he kept firing arrows. Gordon was telling him to calm down.
"Whatever Gordon was telling him, he wasn't taking it in. He looked pure wasted, like he was on drugs."
Little denies a total of five charges including murder, assault, threatening or abusive behaviour assault to permanent disfigurement and impairment, and possession of a Class B drug. The trial continues.
Get today's Tele Late Extra for the latest on this story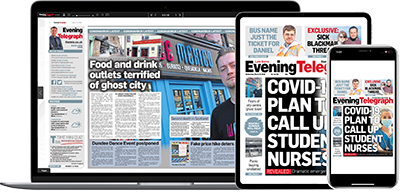 Help support quality local journalism … become a digital subscriber to the Evening Telegraph
Subscribe