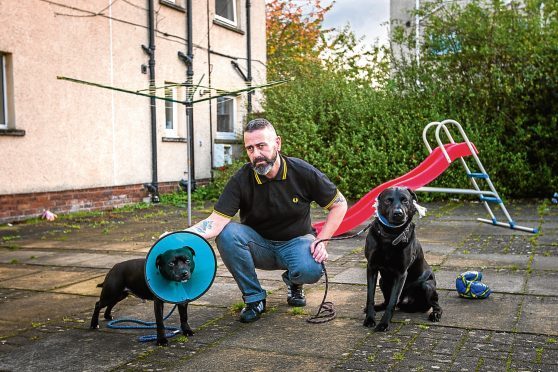 A dog owner has told of the "horrifying" moment his two pets were attacked by out-of-control Staffies.
Brian McAllister, 46, was heading out on a walk with seven-year-old Labrador Sam and his own Staffordshire bull terrier Laz, four, when the dogs were attacked by the two animals as they left his close at Newhouse Road, Perth — injuring Laz's paws while most of Sam's ear was ripped off.
The frenzied dogs continued to attack his pets, despite Brian and a neighbour intervening.
He said: "I had only taken two steps outside my close door and it was total pandemonium.
"The girl who had the two dogs must have known something was about to happen because she shouted something and then it happened.
"My dogs have been raised to not attack other dogs so they ended up not defending themselves.
"My neighbour heard my dogs screaming out in pain and she came down.
"She tried to help and ended up being bitten herself.
"I was trying to pull one away from Sam and the other would be attacking Laz.
"They were going for the kill — it got to the stage where I was pushing my fingers into their eyes, with my full body weight on them, and I still couldn't stop them."
Brian rushed both dogs to the vet and had to pay a £440 for their treatment.
He then took his neighbour to A&E because she had cuts to her hands from trying to intervene in the attack.
He added: "She was brilliant — if it wasn't for her coming out then I don't know what I would have done."
Brian has called for dog owners to "take responsibility".
He added: "It is completely down to the owner, if they know their dog can't be around other animals without becoming aggressive then they need to make sure that they are kept on a lead. It is all about responsible dog ownership.
"My Staffie would never attack anyone or anything.
"What if there had been a child nearby? It doesn't bear thinking about."
A Police Scotland spokeswoman confirmed the force had received a report regarding the incident.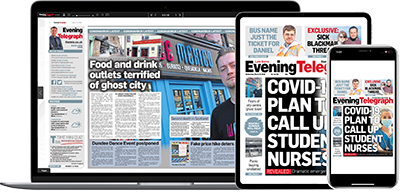 Help support quality local journalism … become a digital subscriber to the Evening Telegraph
Subscribe