A globetrotting artist with a huge online following has just completed a unique mural at Dundee's Waterfront inspired by the city's nautical past.
Australian artist Steen Jones, 32, who has more than 56,000 followers on Instagram, was specially commissioned to come to the City of Discovery to create the artwork, which he has worked on largely freehand.
The artist – who divides his time between Brisbane and Sydney – was brought to Dundee by clothing label Abandon Ship to create the design for its new pop-up bar.
Boasting a client list that includes Converse, Vans, Red Bull, sunglasses company Ray-Ban and alcohol brands Bacardi and Sailor Jerry, Steen has travelled far and wide.
However, he said he had been told about Dundee through pals such as Rich Davies, director of Abandon Ship.
And he aimed to pay tribute to the local landscape in his eye-catching new work.
"I've been here since Tuesday and was putting the finishing touches to it on Friday," he said.
"Abandon Ship sent for me from Australia because I have a very specific style they were after.
"But when I learned a bit more about Dundee and found out about the ship the Discovery, we thought we had to include a bit of that."
Steen is staying at the city's Malmaison hotel and admitted that, although he hasn't yet had much of a chance to explore, he hoped to spend some of the weekend "cruising around".
"I've been hearing about Dundee for a long time through Rich and others so I'll need to have a look around before I go," he said.
Steen's background is in tattoo art but he has worked professionally as a graffiti artist for the last eight years.
He has 56,000 followers on the picture-sharing website Instagram, on which he regularly shares images of his work and travels.
After Dundee, he is heading for Helsinki, before returning to Australia, where he also runs a bar.
Abandon Ship's pop-up "dive bar" will form part of the Spirit of North Hop craft drinks festival, which takes place on November 24.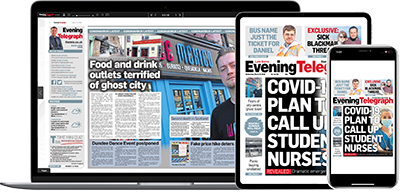 Help support quality local journalism … become a digital subscriber to the Evening Telegraph
For as little as £5.99 a month you can access all of our content, including Premium articles.
Subscribe