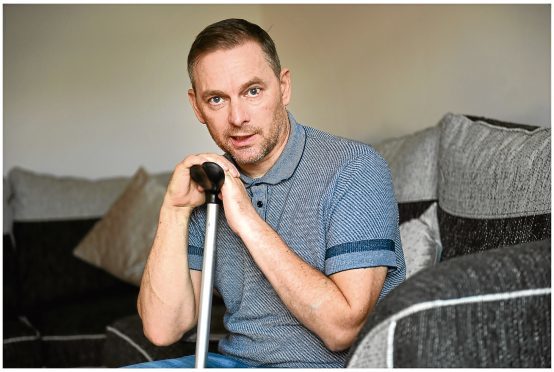 Former Scotland football stars will turn out in a benefit match in aid of a Dundee-born coach.
Eddie Wolecki-Black, 52, was managing SPFL side Airdrie United in March last year when he suffered two brain haemorrhages.
He was released from hospital in May 2016, but has struggled with his mobility, and had to rely on a wheelchair until recently. He also still has very little movement in his left arm.
Now, the former Dundee United and Lochee United coach will take the reins of another club he managed, Glasgow City, as their ladies take on a team of retired male professionals.
Proceeds from the match will go towards paying for pioneering treatment the dad-of-seven is hoping to have in Florida, which involves an anti-inflammatory drug being injected into his spine while he is upside down.
The cost of the treatment, travel and accommodation will be £10,000, so Eddie's friends and family have launched a fundraising drive.
Eddie, who lives with wife Emma and one-year-old daughter Sophia, said: "The side of ex-pros is mostly former Old Firm players, guys I've become friends with over the years.
"Lee McCulloch, Derek Ferguson and Lindsay Hamilton, who all played for Rangers, will be there. Simon Ferry, Simon Donnelly and Kevin McBride, all formerly of Celtic, are playing too."
Although he won't be donning his gloves on the day, former Rangers and Scotland goalie Andy Goram is also expected to be at the match.
Eddie said: "They'll be playing a Glasgow City side including past and current players, including my wife Emma, which I'll be managing. My son Alex, 25, played for Celtic boys so he's playing for the male side, and my daughter Sophia is going to be a wee mascot on the day.
"There's another game being organised in August by ex-Lochee United chairman Tom McMillan, in Dundee.
"The way the football community has reached out to help me has been fantastic. That's both the teams I've played for and managed, but also a lot of people from opposition dressing rooms."
The game will take place at Airdrie's Excelsior Stadium on July 16, with ticket details to be released shortly.
More than £2,500 has already been raised via the Just Giving page set up to allow people to donate for Eddie's treatment. For more information, visit gofundme.com/3sw53jc.