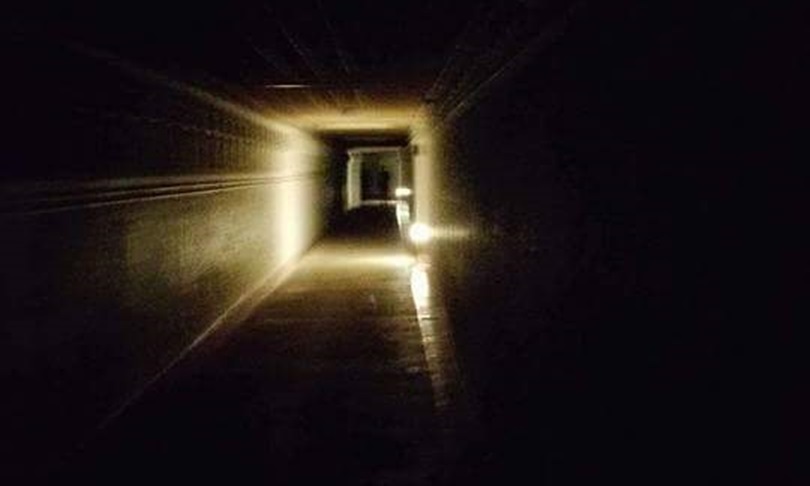 Creepy pictures appear to have caught apparitions on camera at a disused nuclear bunker.
A spate of spooky incidents have also been reported at Scotland's Secret Bunker in Fife.
In the last month an incident in which a woman fainted and apparent connections with several spirits have also had visitors and paranormal experts scratching their heads.
In one of the photos (above), two figures are seen at the end of the long corridor that forms the entry to the bunker, which is situated 100 feet underground.
In another set of snaps in a room that served as an office, a ghostly presence appears in one photo but not in another one taken directly before it.
Visitor Matthew Pattinson only discovered the two before and after photos when flicking through his phone with a friend.
He said: "I only remember taking the first photo. It's like my phone took the other one itself and it even lightened it. You can make out what looks like the sideways view of someone's head and a nose. I'm getting chills just talking about it."
For Matthew and his fiancé, the spooky happenings haven't stopped there. Since they returned to their home in Carlisle, objects have been moved in their bedroom and the battery on Matthew's phone, which was bought just two weeks prior to the visit, is permanently low.
The photo of what looks like figures at the end of the corridor was taken by a guest on a Scottish Ghost Nights' tour of the attraction.
Lisa Tedstill, managing director of UK Ghost Nights and Scottish Ghost Nights, which conducts regular paranormal events at the Bunker said: "I think there's definitely something there. It's one of the best photos I've ever seen of apparent spirits."
Lisa added that the corridor was empty apart from her group at one end of it.
During a separate visit by the same company, a female visitor felt ill in the Bunker's dormitory and then fainted just as a REM pod sensor alarm – a popular piece of ghost hunting equipment – went off. The face of a man was then seen at the dormitory window.
Mediums have also reported connections with several spirits, most of them former military personnel who worked there.
For 40 years Scotland's best kept secret, The Secret Bunker was hidden beneath a farmhouse 100 feet underground. The nuclear command centre, still with specialist communications equipment intact, was decommissioned in the late 1980s.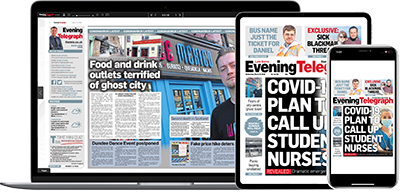 Help support quality local journalism … become a digital subscriber to the Evening Telegraph
Subscribe