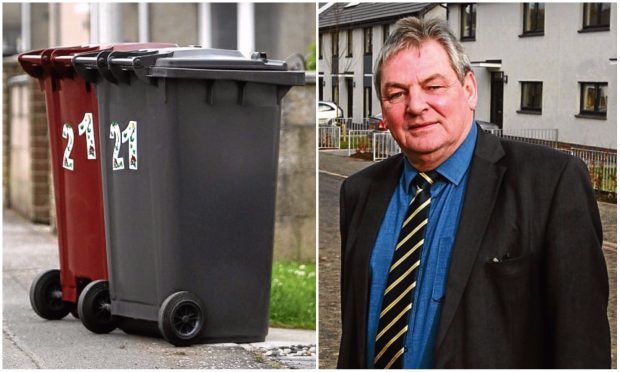 A councillor has called for Dundee City Council to halt the rollout of its new recycling scheme to "get it right for everyone".
Brian Gordon, who represents the North East ward, claims the initiative — which is designed to increase the number of items people are recycling — has descended into "chaos".
His comments came amid problems with bins in the Mill o' Mains area, where Mr Gordon says the rollout has been inconsistent — with some residents given Eurobins and others left with normal wheelie bins.
Mr Gordon said it was a particular issue in that area as many residents don't want wheelie bins, due to recent fireraising incidents involving them.
He told the Tele: "Recycling in the Mill o' Mains area is in chaos with residents struggling to know what to do.
"I have now written to the chief executive, David Martin, and executive director of neighbourhood services Elaine Zwirlein asking them for a moratorium on the current recycling programme until we get it right for everyone.
"There's no consistency and people feel it's not fair that some streets will get to keep their Eurobins and others will have their individual bins returned with all the problems involved.
"I live in one of the properties where the individual bins are being returned, which means I would have to take my refuse bin through the house because my back door is the safest place to keep it.
"Obviously people don't want to have to do that.
"A council spokesman told me that with the regeneration of the area, most if not all of the new-build properties have been supplied with individual wheeled bins for their general waste.
"However, the communal shared bins which previously served these properties have remained in place, which has meant that those properties who continue to use the shared bins now have an over-provision in their general waste allowance."
A raft of complaints have come forward since the council rolled out the latest phase of its new recycling scheme to thousands of homes in June.
The initiative means that many areas are now only having their general waste collected fortnightly, with residents encouraged to put other items such as glass and food waste in separate containers.
It led to large build-ups of waste in some areas as the council struggled to cope with the switch to new collection arrangements.
Kevin Cordell, convener of neighbourhood services, previously admitted the scheme had suffered teething problems — and said the council was working to solve issues in particular areas.
A spokesman for Dundee City Council said: "The council will reply directly to Councillor Gordon in due course."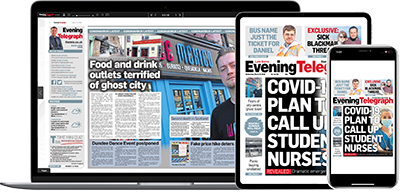 Help support quality local journalism … become a digital subscriber to the Evening Telegraph
Subscribe