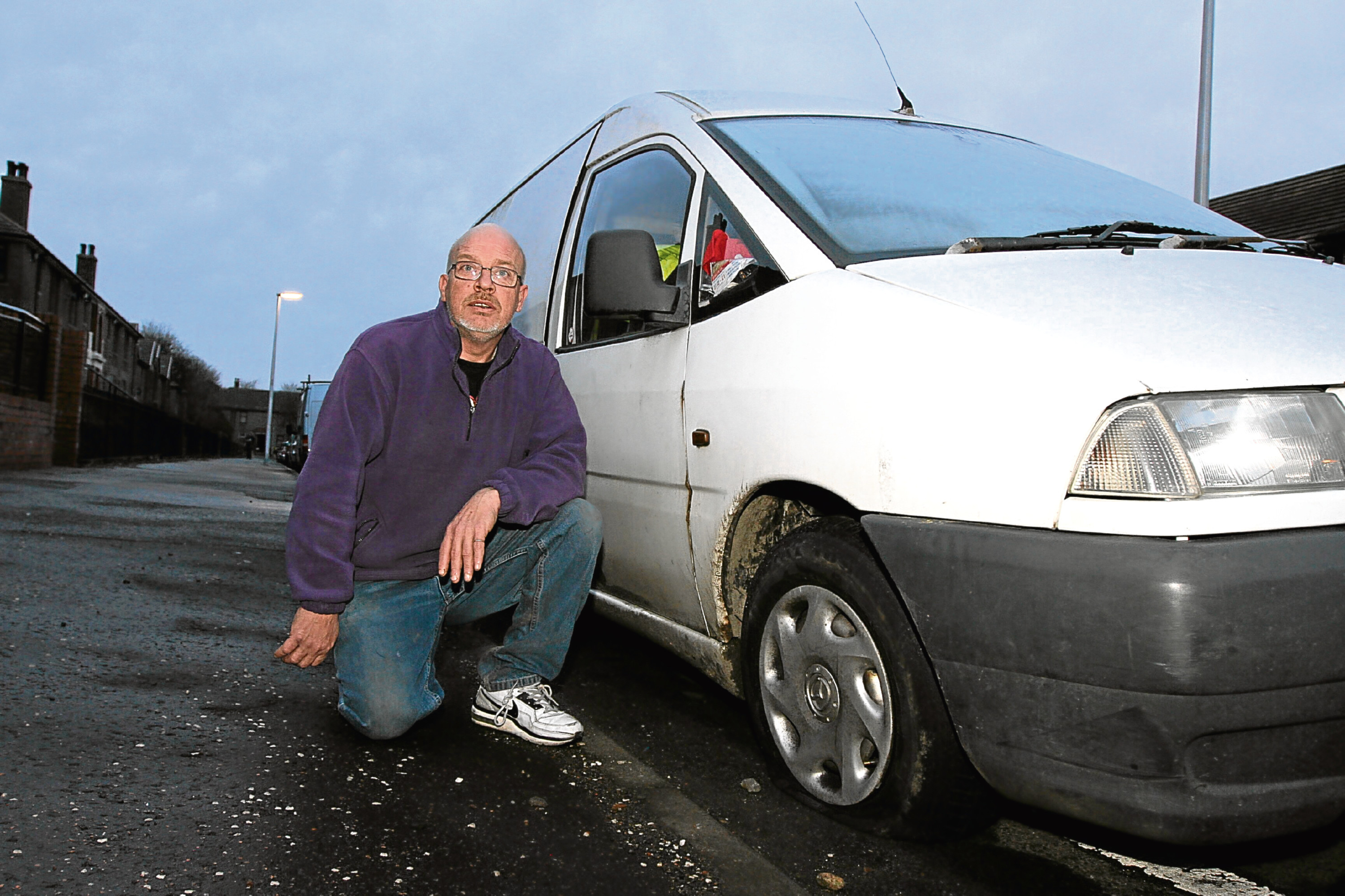 Tyre-slashing yobs who caused £20,000 damage at a Dundee garage are believed to have also have targeted a number of vehicles in neighbouring streets.
Vandals went on the rampage on Clepington Road, Hyndmarsh Avenue, Fleming Gardens North and South, causing hundreds of pounds worth of damage.
Police believe the culprits were also responsible for an attack on Cowgate Motors where 180 tyres on 45 vehicles were punctured.
Tony Mcateer, 54, of Fleming Gardens North, described the attack as "mindless".
Tony, who has lived in the area for 30 years, said: "I'm not riled but it is totally mindless vandalism. Whoever has done it has targeted my Peugeot van and my partner's BMW but I heard there were as many as 50 cars affected. I have been blowing up the tyres, so it has impacted on my job as a delivery driver as I need to pump them up every few hours.
"Whatever they have used hasn't caused any visible damage. It just looks like I have a slow puncture, they have maybe used a metal toothpick.
"I'm hesitant about replacing the tyres straight away in case they decide to come back and do it again. For my van it could cost me more than £100 to get the two tyres replaced. Whoever has done this, I don't know what they really got out of it."
Alistair Urqhart, 70, said: "It was my rear driver side that was affected — it must have happened on Monday night. I took it to the garage yesterday assuming it was maybe a slow puncture. The damage to the tyre was literally the size of a pin hole.
"It cost me just under £80 to replace it. When it happened I had no idea so many vehicles had been impacted until I went to the garage to get it fixed. I'm shocked how many motors have been damaged."
A spokeswoman for the force said: "A number of cars were vandalised in Dundee between 4pm on December 5 and 9am on December 6.
"Vandals targeted more than 40 cars in the forecourt of Cowgate Motors on Clepington Road and also cars parked on the streets in the surrounding areas. All the cars suffered damage to their tyres.
"Officers are carrying out door-to-door inquiries and a review of CCTV is currently being carried out to identify those responsible. Officers are keen to speak to two youths seen in the area."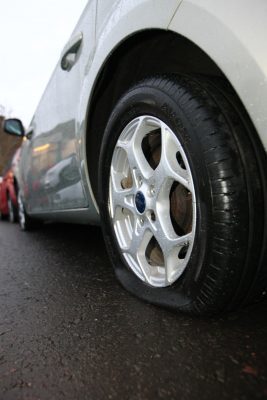 Reward
Dundee garage owner Gordon Sinclair, who had £20,000 of damage caused to cars by vandals, is offering a £1,000 reward in a bid to catch the culprits.
"I hope that by offering this substantial reward someone will feel tempted to reveal anything they know about who might have targeted my business," said Gordon, 56, of Cowgate Motors, on Clepington Road.
Gordon has been left with a bill for £20,000 after the brazen attack overnight on Monday that left 45 cars with their tyres slashed.
"I'm no further forward in knowing who did this but I want them caught — that's why I'm offering such a big reward," said Gordon.
"This couldn't have happened at a worse time for me. Every single car at my garage had its tyres slashed.
"It will take days to repair the damage, never mind the financial cost.
"I still have four tyres to replace on 43 cars and at more than an hour each that will take us a fair bit of time to fix."
Gordon said that while he was hopeful his insurers would cover some of the costs, he was still going to end up personally out of pocket by around £5,000.
"I will have to pay the reward money myself and I will also be several thousand pounds for the security systems I plan to put in place," he added.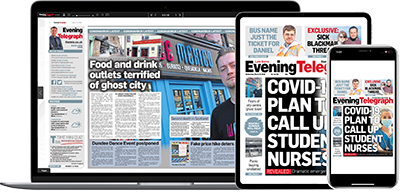 Help support quality local journalism … become a digital subscriber to the Evening Telegraph
For as little as £5.99 a month you can access all of our content, including Premium articles.
Subscribe