Compulsory purchase orders (CPOs) are to be served on the owners of properties in Dundee's Blackness Road.
The decision was taken in a private session of the local authority's policy and resources committee on Monday night.
The Tele understands that councillors have agreed to pay almost £300,000 to owner occupiers as part of the CPOs.
The move brings controversial plans to demolish 26 flats at 219-245 Blackness Road a step closer.
The move was condemned today by the council's former housing convener Jimmy Black.
Mr Black said: "I don't understand why this had to be held in secret.
"Even if the council wanted to protect the identity of owner occupiers there was no need to hold this in private.
"It looks like they didn't want to publicise how much public money they are prepared to spend on this."
Mr Black added: "If the council are having to go down the road of taking out CPOs to demolish attractive flats in the West End there is something wrong with this plan."
It was first revealed last June that residents would have to move out of their flats as the council planned to demolish them and a shop unit in a £4.5 million scheme.
The council said the proposals followed persistent problems with the stairwells, which had a maximum five-year life span before they became entirely unsafe.
At the time, some residents said they were in favour of the proposal but others were left "gutted" by the news.
In December, however, the council was urged to "revisit" its decision to demolish the property.
At a meeting of West End Community Council, concerned residents called on the local authority to rethink the matter. A motion to support them was unanimously backed by members. In January, it was revealed that a group of businessmen was hoping to save the housing block from demolition.
A month later, the council was accused of seriously misleading councillors in a report recommending demolition. Officials claimed that a majority of residents backed the plans – but a freedom of information request revealed that six private landlords who do not live there had been counted as "residents".
Eight people voted in favour of refurbishing the flats and 14 in favour of demolition, but of those 14, six were private landlords and three were owner-occupiers.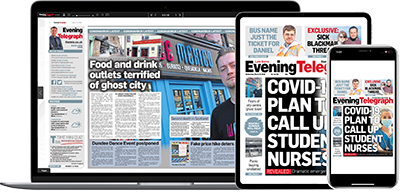 Help support quality local journalism … become a digital subscriber to the Evening Telegraph
Subscribe