A Dundee pensioner claims she has spent thousands of pounds just to use a shower in her home.
Charlotte Myles' family have spoken out about the shower charge she has been subjected to at her council-run property.
OAPs to fight '£10 weekly charge' to shower in Dundee Council-run homes
The family came forward after the Tele reported that Dundee Pensioners' Forum was calling for the charge to be abolished.
Forum secretary Dorothy McHugh advised the charge was brought into force in 2007 when showers were installed in the council homes of people who required them due to disability but people continue to be charged today.
Dryburgh pensioner Charlotte joined the scheme in 2010 when she received a new shower.
The 90-year-old – who has been registered blind for more than 20 years – had a shower fitted at her house at the request of occupational therapy.
Charlotte's grandson David said she has been charged £10 per week since its installation, and estimated she had paid out at least £4,000 in that time.
He said: "My gran has lived in the house in Dryburgh for the last 58 years.
"It had been hard trying to assist her in and out of the bath.
"A decision was made by occupational therapy to have a walk-in shower installed.
"Since it has been in place gran has been paying this charge.
"It must be well into the thousands of pounds she's paid now.
"There are no maintenance checks on the shower to check the pump.
"As someone said in the article earlier this week, it makes these showers extremely expensive.
"There is a greater call now for these fees to be scrapped.
"She has never been happy about paying it but has never questioned it until this has come out this week.
"They should abolish the charge."
The pensioners' forum raised the issue with the council earlier this week, gaining the support of Labour councillor Richard McCready.
Head of neighbourhood services Elaine Zwirlein said the council would meet with forum representatives to discuss the matter.
Council leader John Alexander said he disagreed with the charge "in principle".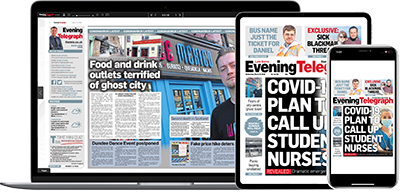 Help support quality local journalism … become a digital subscriber to the Evening Telegraph
For as little as £5.99 a month you can access all of our content, including Premium articles.
Subscribe