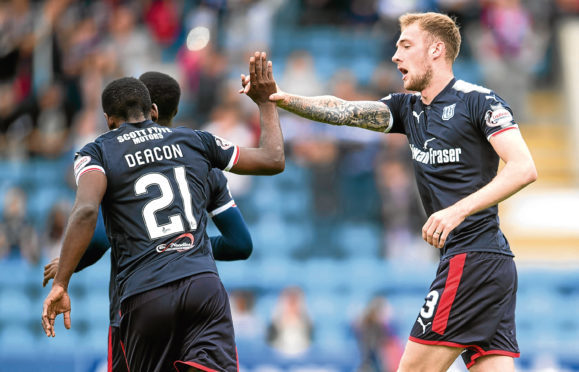 Dundee have their sights set on five wins from their final five fixtures, according to full-back Kevin Holt.
The Dark Blues go into their post-split matches on the back of a difficult week that saw them host Hearts as well as travelling to both Celtic and Rangers within seven days.
Draws against the Jambos and then in the champions' back yard made it a creditable week for Holt and his team-mates, though the game at Ibrox was just one too far as they fell to a 4-0 defeat.
Holt said: "It had been a hard week and a lot of the boys played three games in seven days against three of the best teams in the country.
"Two of them were away from home and it's no easy feat.
"I think that probably showed in the last 20 minutes at Ibrox, we ran out of steam a little bit.
"Especially on the back of not getting that goal when we'd put so much into the first 15-20 minutes of the second half."
For much of the contest against Rangers, Dundee were right in the game and Holt says that, coupled with the performances against Hearts and Celtic, should give the team confidence going into their final five games of the season.
He added: "We had a wee spell at the start of the second half where they were on the back foot and that was maybe our chance in the game where we needed to score. Obviously we didn't and it ends up a disappointing day.
"We've been really solid the last couple of games as well but once we lost the second goal on Saturday we fell apart a wee bit which was disappointing, that shouldn't happen.
"It has happened all season, we've touched on it plenty of times but we did show in the last couple of games how good we can be and we want to go into these five games confident and put the Rangers result to the back of our minds.
"We need to show in the next games what this team should have been doing all season.
"We know we have five massive games coming up.
"We're in a good position going into the split, certainly better than last season, and we're looking to win five out of five, simple as that.
"That's the plan. When you're playing teams around about you there's no reason why not.
"We were looking to get into the top six and we've underachieved and not got there so we're looking for five wins.
"Of course, all the other teams are good teams and a few are doing better than us this season so it'll not be easy but that's the target."
The Dark Blues go into the split with a four-point lead over 11th-placed Ross County, something Holt says the players are all too aware of as they battle to stay in the Premiership.
"We knew going into the game we were five clear and were just focusing on ourselves," he said.
"We thought it was a great opportunity to go to Ibrox on the back of two good results and try to push further away.
"I think when you're in the position we are you do need to have an eye looking over your shoulder. You can't kid yourself on and think they've got no chance because we're right in the mix.
"Results went for us at the weekend and, hopefully, we can take advantage of that in the next round of fixtures.
"We knew we were capable of picking up points from these last three games. On paper they were harder than people thought and it was only two points but they might be massive come the end of the season.
"Psychologically as well it's shown how well we can play and going into the split that should give everyone confidence we can do well."