The Tele's story last week that Tayside schoolchildren could soon be eating frozen school dinners instead of fresh meals prepared in city schools provoked a strong response online.
Some readers were unsure if Dundee City Council should go ahead with plans to change its school meal provision from cooking on site to cooking them at a central hub and distributing them to schools.
One of the concerns was that frozen food might taste worse than freshly-made meals.
Rather than speculate, Tele reporter Lindsey Hamilton had a taste test at Perth City Chambers to compare the difference between frozen and freshly-made lentil soup.
The video is at the top of this article. Lindsey's account is below.
I was very interested to take part in the blind taste test.
I had no idea if I would be able to tell the difference between the fresh and the frozen food.
As it turned out I got it wrong  but interestingly I preferred the fresh food.
However, it would be fair to say that both sets of food were very tasty.
Had I not known that one set of food was frozen and one was freshly prepared that morning I doubt very much if I could have found a difference.
I believed that the food I preferred  was frozen but not sure why – I think it had something to do with the custard seeming thinner.
I have a perception that food of that type once defrosted is thinner – don't ask me why!
The frozen food was tasty, looked and smelt good and had a nice consistency – and I was ensured it was probably even more nutritious than the freshly prepared dishes.
For my personal taste however, the freshly prepared food had the edge – it seemed creamier, better seasoned and I suppose fresher!
However, I wouldn't turn my nose up at the frozen food – and having taken part in the experiment I don't think our pupils or their parents have very much to worry about – school dinners rule!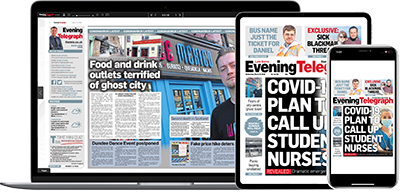 Help support quality local journalism … become a digital subscriber to the Evening Telegraph
For as little as £5.99 a month you can access all of our content, including Premium articles.
Subscribe