A former patient of the Carseview Centre has spoken out in defence of the facility following the screening of a damning TV documentary.
Breaking Point was screened on BBC One Scotland on Monday July 9.
On the programme, former patients claimed staff used face-down restraints violently and claimed illegal drugs were also available on the wards.
It was also claimed staff took their frustrations out on patients physically and verbally.
But Ardler woman Rona Foy has spoken out in defence of the centre, saying the care provided by staff at the facility during her time as a patient inspired her to volunteer for Dundee Voluntary Action.
Part of her volunteer work sees her going into Carseview to speak to patients in a bid to support them.
The mum-of-one was admitted in 2001 after suffering a nervous breakdown for six weeks.
She re-entered the facility in 2014 after suffering from anxiety.
Rona expressed her shock over the content of Breaking Point and said during her time in the mental health unit, she said she had never witnessed illegal drug use.
The 39-year-old said she felt "safe" at the facility during her two visits.
She said: "When I watched the footage I was in utter disbelief – this isn't the Carseview Centre I knew.
"During my time as a patient and as a volunteer I couldn't speak highly enough about the staff – I saw with my own eyes that it has helped others.
"My time there as a patient inspired me to come back as volunteer to help others."
During Breaking Point Professor Peter Tyrer, who co-wrote guidelines on how to handle mental health patients, told the BBC he was concerned the culture at Carseview had become so toxic it should be closed.
But Rona said: "I couldn't believe there was a call to close the facility down.
"I was never offered illegal drugs during my time nor did I see other patients being offered illegal drugs.
"I've spoken with another four or five patients who didn't recognise the facility that was portrayed in the documentary. I only ever saw one patient being restrained and the police were called on that occasion.
"I'm sorry to hear that people have had bad experiences at Carseview.
"But it is unfair to tag all the staff with the same brush."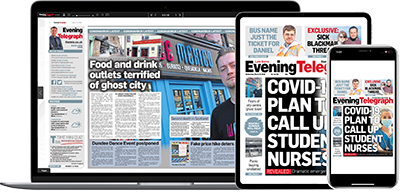 Help support quality local journalism … become a digital subscriber to the Evening Telegraph
For as little as £5.99 a month you can access all of our content, including Premium articles.
Subscribe