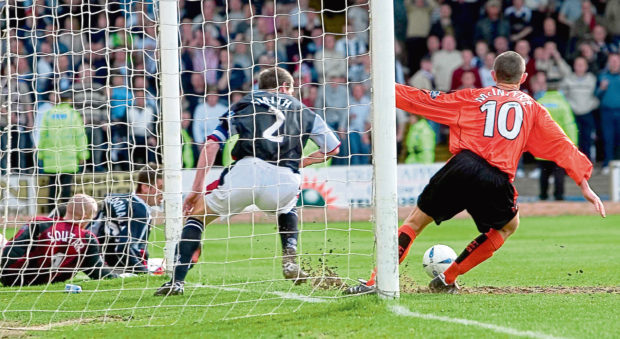 Jim McIntyre broke his heart in one of the most crucial Dens Park derbies ever, but former goalie Derek Soutar is happy to deal with the now and gives his backing to the newly-appointed Dundee manager.
During a playing career that saw him spend five years over the road at Dundee United, McIntyre made a habit of scoring goals against the Dark Blues.
Few were more important than his April 2005 winner that proved vital in the Tangerines staying in the top flight that season – at the expense of their city rivals.
And it's a painful memory for "Soapy", who was in the home goal for that 2-1 defeat.
For him, though, it's all about what McIntyre can do for the team he remains an avid fan of and not about what happened in the distant past.
He's hopeful his fellow-Dee supporters adopt the same attitude and get right behind the new gaffer.
"Thanks for bringing that up, it's not one of the derbies I prefer to recall but I do remember Jim scoring that winner and it wasn't a nice feeling," he said.
"He was always a dangerous player we had to watch out for in derbies and you have to be honest about it, a lot of Dundee fans won't have forgotten that.
"But now it's about what he can do for our club and I'm sure if he can get a few quick wins and get the team up the table a bit the fans will be right behind him.
"He's not the first manager, even in Dundee, who's taken over at a team that were his rivals when he was a player, it's part of football and it's not something that stopped them going on to have success.
"And going on to manage a club you were a favourite at is no guarantee of success – sadly we've just seen that with Neil McCann.
"I was sorry to see him go because he's someone I like as a person, who I knew had a real feeling for Dundee and wanted to play good football but things just didn't work out.
"Now the board have turned to Jim and, as well as being a manager whose teams can play attractive stuff, he's one who knows the importance of results. Particularly right now, he'll be working to get them and get Dundee out of this hole they're in and, as time passes, he'll worry about how it looks."
Soutar points out if Dundee drew up a profile of the man they needed, McIntyre would be one of those who came closest to ticking all the necessary boxes.
"Jim's now an experienced manager with knowledge of the Premiership and he's been successful. I know he got the sack at another of my old clubs, Ross County, last year, but it was a harsh decision.
"I've a lot of time for Roy McGregor (County's millionaire owner) and he's a man who hasn't made many mistakes up there.
"Getting rid of Jim and Billy Dodds was one and I think when he looks back on that he'd probably agree.
"As for Jim himself, he is a proud man who will work very hard to put things right a Dundee.
"What happened at County will have hurt him and he'll be determined to prove he still has a lot to offer – I think he has.
"In the past he's got the best out of players and while he's inheriting a few good ones at Dens, I think it's fair to say there are a few others who've under-achieved."
Soutar's also convinced Dundee are getting a man whose stock in Scottish football remains high, and rightly so.
"While he's been out of the game he's been linked with a few clubs and if some of them chose to go another way, I know he knocked back a few offers because they weren't right for him.
"He's wanted to get back in at a club where he feels he can achieve something in the top division and Dundee fans can be happy he thinks we fit that bill."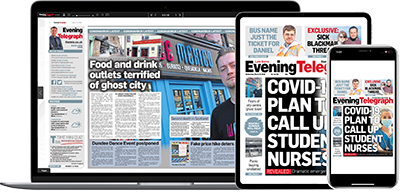 Help support quality local journalism … become a digital subscriber to the Evening Telegraph
Subscribe