City folk have spoken of their terror as police investigate three suspicious fires which took place within a mile of each other.
Fire crews were called to St Mungo Terrace, where a child's buggy was set alight inside the stairwell of a flat, shortly after 9.40pm yesterday.
At 10pm, a caravan was discovered ablaze at St Fillan's Road and a removal van was found on fire at Scotscraig Road shortly after.
A spokesman for the force said: "Police Scotland is appealing for information about three wilful fireraisings which happened in the St Mary's and Ardler areas on Thursday.
"Although these incidents are not being directly linked at this time, the possibility of them being connected is being considered.
"Officers are keen to trace a man described as in his 30s, about 6ft tall with short spiky hair, wearing a grey hoodie or something similar, and sun glasses, with a local accent who was seen in the area before the first incident on St Mungo Terrace, and was seen walking away from the street when the first fire started.
"The danger caused by these three fires, particularly the one in the communal close on St Mungo Terrace, cannot be overstated. Fortunately all three fires were extinguished relatively quickly."
Mark Phin, of M&M Removals — who owns the van which was set alight – said: "The van is mess.
"This is our livelihood at stake. I don't know why someone would do this."
At St Mungo Terrace, emergency services closed the road as crews tackled the fire within a three-storey tenement building.
Witnesses said three fire engines were in attendance on the street as police and paramedics looked on.
One resident said: "The whole street was packed with emergency crews.
"There were three police cars at one point, paramedics looked to be on standby to see if anyone was injured.
"I couldn't actually see any smoke but folk were hanging out of their windows in the block. There appeared to be particular concern for someone within a first floor property as crews went up on a ladder to the window. I just hope no one was injured."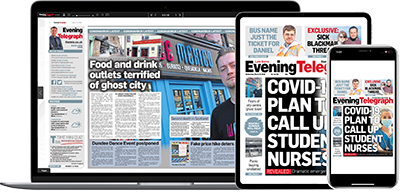 Help support quality local journalism … become a digital subscriber to the Evening Telegraph
For as little as £5.99 a month you can access all of our content, including Premium articles.
Subscribe