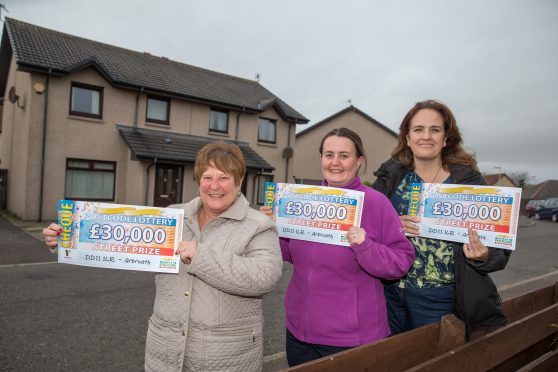 Five Arbroath neighbours got an amazing knock at the door this week when People's Postcode Lottery delivered a £30,000 cheque to each of them.
The McGregors Walk winners, who play with the postcode DD11 1LR, won the Street Prize on Saturday 04 November, 2017.
Tesco worker Sarah Ann McFarlane (36) will be able to afford her dream holiday thanks to her win.
The mother of two said: "I've got a bucket list and Iceland is on it. I'm going to take my husband and the kids there on holiday next year and it'll be amazing.
"As a family, we enjoy the outdoors so this really will be the dream holiday. We'll plan a brilliant Christmas this year for the kids too."
Sarah Ann scooped the prize with her first ever draw. She added: "My husband really wanted us to play for a long time so I eventually signed up and the timing couldn't have been better. It's a nice feeling to be a winner and everyone at work is really chuffed for me."
Retiree Anna Rootham (65) said she was living proof that playing People's Postcode Lottery was a good idea:
"I was grinning from ear to ear when I realised how much I'd won. I just couldn't believe it until the knock at the door came and I saw the cheque.
"Winning means I can enjoy my retirement a bit better. I'm planning to go to America for a holiday next year with my husband. We might even change the car now."
Another £30,000 winner on the street is 43 year old Jackie Baker, who was delighted with her prize.
"What a great way to meet neighbours. It's great to win together and I've made a few extra friends on the street," she said.
"In the back of your mind you think maybe one day you'll win, but you never think today's going to be the day.
"I work in a garden centre and I'd like to spend some of the money on my own garden. I'm trying not to get too carried away with a shopping list, but there'll be a few wee treats along the way."
Two other winners on the street were unavailable to receive their cheque from People's Postcode Lottery ambassador Judie McCourt, but the cash prize will be paid directly into their bank account.
Judie said: "Congratulations to our lucky winners in Arbroath. With over £100 million in prizes this year, why not enter the next draw with your postcode? With prizes every day we could be visiting your street very soon."
More than £246 million to date has been raised by players of People's Postcode Lottery for over 3,000 good causes across Great Britain and internationally.
A cause local to the lucky winner in Arbroath which has received support from players is Bonnie Dundee. The charity was awarded £500 this year to upgrade facilities in an urban picnic area used by families.
For more information on People's Postcode Lottery, please visit www.postcodelottery.co.uk.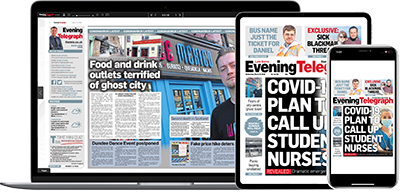 Help support quality local journalism … become a digital subscriber to the Evening Telegraph
Subscribe