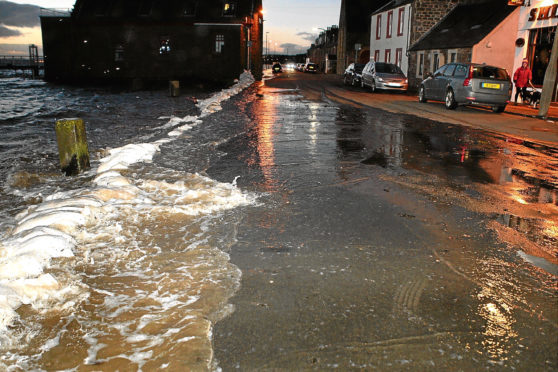 Construction work on flood defences in Broughty Ferry could start later this year, council chiefs have revealed.
The local authority is in the process of building walls along the city's Waterfront in order to protect properties and residents from the threat of devastating floods.
Although such an event is estimated to happen only once every 200 years, about 450 properties are deemed to be at risk — and water damage could cost in excess of £97 million to repair in Broughty Ferry alone.
Construction work has already taken place on walls along Riverside Drive.
Now, Gavin Smart and Michael Sandeman — of the council's engineering team — have met with community councillors in the Ferry to discuss plans for similar defences there.
Speaking at a meeting of the group, the pair said work would be split into four sections — Douglas Terrace to the lifeboat station, Fisher Street, Beach Crescent and by the Windmill car park — and could potentially start later in the year.
The plans include a four-metre-high set-back wall with a combined cycle and walking path.
The meeting heard that there will be regular openings in the wall to allow for public access, with flood gates in place that can be closed manually.
There are also plans for large steps to be put in place along Beach Crescent, which members of the public can sit on or walk along, but which will help protect the area from the threat of the water.
Mr Smart said the plan was to use natural resources such as stone, sourced locally, to build the defences.
He also said lighting in the area would be improved, parking in Beach Crescent would be increased — with an extra 20 spaces created — and that public art may also be included.
Concerns were raised at the meeting by one resident over whether cyclists and pedestrians could share the same path without too much conflict.
But Mr Smart said: "If people want to go fast, then they should stick to the road. People out with kids should cycle on the new footway."
The first phase of the work would take about 18 months to two years to complete.
However, before it proceeds, the council needs to contact landowners and residents to inform them of the final plans — and to allow for any objections to be heard.
Broughty Ferry councillor Craig Duncan said: "The council has a duty to undertake flood defences.
"On the whole, I would say I am quite impressed with most of it."
He added: "I quite like that they are taking the opportunity to broaden out the walkway on the south side of Douglas Terrace.
"I'm pleased that there are going to be an extra 20 parking spaces at Beach Crescent."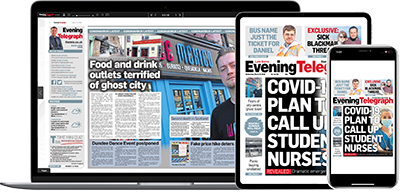 Help support quality local journalism … become a digital subscriber to the Evening Telegraph
Subscribe