The first woman in history to complete a full lift of the legendary Dinnie Stones will return to her birthplace of Dundee as she celebrates her achievement.
Leigh Holland-Keen, 29, said she was "ecstastic" and "lost for words" when she completed the full lift – standing up straight with shoulders back – of the combined 332kg weight.
She is the first woman in 40 years to lift the granite boulders in Potarch, Aberdeenshire, since American Jan Todd completed a partial lift in 1979.
The smaller of the stones weighs 144kg and the larger one is a massive 188kg.
Leigh is due in Dundee tonight to catch up with old school pals.
She said: "I'll be honest, we're probably going to have a good night out in Dundee – it's been a long time coming."
Leigh, originally from Ardler, comes from a family of bodybuilders, with mum Susie and stepdad Lance also regularly competing in strength contests.
She put in a year of training to complete the lift at The Gathering, an annual event which sees the world's strongest people attempt to lift the stones.
"I was over last year with my stepdad, who lifted the stones, and I was given a shot, which wasn't part of the plan," she said.
"While I hadn't prepared for it, I was quite close and realised if I put in a bit of work I could get them up.
"I spent a year working on my grip strength beforehand, doing things like deadlifts and whips.
"This time, I just closed my eyes and went for it. When I succeeded it was so surreal – it was hard to find the words.
"I was ecstatic and it was surreal that all these legends were clapping for me and hugging me.
"That was the most special thing for me – all these 70 and 80-year-olds who did what I was doing back in their day.
"There was a fantastic atmosphere – and my mum managed a partial lift as well."
Growing up in Dundee, Leigh excelled on the running track at both St Fergus RC Primary and Lawside Academy.
However, when her stepdad took her to a gym for the first time at 15, she caught the weightlifting bug.
She moved to Australia with her family at the age of 14 – and not long after, she and her family were hitting the gym together.
Leigh added: "My mum and stepdad both compete and encouraged me to have a go.
"I thought it was incredible and now I'm competing in World's Strongest contests."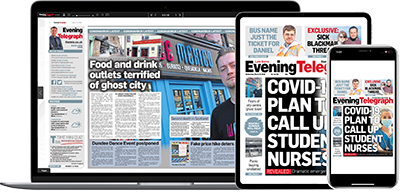 Help support quality local journalism … become a digital subscriber to the Evening Telegraph
Subscribe