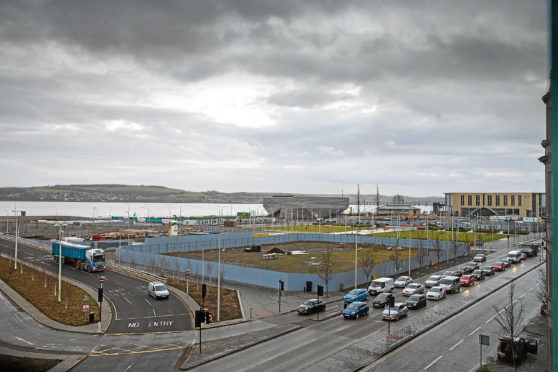 The firm set to sculpt the future of a prominent Dundee Waterfront site has said it is prepared for an "open and proactive" conversation with local residents.
Keppie Design has announced it will hold a meeting at Discovery Point on March 28 to discuss the future of site 10, which lies between Thomson Avenue and Riverside Esplanade beside the exit from the Tay Road Bridge.
In its proposal of application notice submitted to the council, the firm said it was hoping to introduce a "major development consisting of office space, active ground floor uses, residential units, hotel, leisure and associated vehicular access and car parking spaces" to the site.
Although the firm is headquartered in Glasgow, the associate linked with the project, Neil Whatley, is originally from Dundee, and is a Duncan of Jordanstone graduate.
Today, he said nothing was set in stone for the project – and that the company was ready to listen to residents' thoughts and ideas.
Mr Whatley said: "We're still in the pre-application period, which means we have to wait at least 12 weeks before we submit a planning application.
"The upside of that is that we can be open and proactive, and collaborative. The project is still in its early days and we're looking at a variety of proposals and consulting on a number of options"
Recent Waterfront developments attracted a backlash from the public, such as the controversial site 6 plot, directly opposite the V&A Dundee.
Petitions opposing the project attracted thousands of supporters.
However, Mr Whatley said that, rather than being a closed-off meeting, the March forum would be a true "consultation" – but added that an appetite for modern offices would not go away.
He continued: "There are great opportunities in Dundee, but there are businesses who like the idea of modern, collaborative open workspaces.
"It's quite possible we'll be coming along with several options for the site – it's all just part of what could become a planning application.
"This is definitely a consultation on the future of this site."
The City Centre and Harbour Community Council has already confirmed it will attend the meeting next month. Chairman Bill Newcombe previously said the community body has concerns over the site.
He said: "I understand apartments, hotel, offices and retail are proposed with a mention of parking provision.
"It is the same mix of development that all developers want to provide, but is difficult to balance on a site the size of site 10."