Deliberate fires are on the rise in Dundee, according to a new report.
The quarterly performance report for the city from the Scottish Fire and Rescue Service shows deliberate secondary fires rose from 528 incidents between April and December in 2016 to 571 in the same period last year.
The report states that secondary fires – which covers outdoor fires and blazes in derelict buildings – were "significantly" above the three-year average.
Deliberate primary fires that include blazes in buildings, vehicles or outdoor structures were up from 52 to 56.
The report is due to be presented to the city council's community safety and public protection committee next week.
During quarter three, 29 deliberate fires were reported during October and December. These included a number of vehicle blazes as well as a "spate" of fires in recycling collection points at a supermarket within Dundee, believed to have been Morrisons, on Afton Way.
The report stated: "Intelligence relating to deliberate fires is shared with our partners during multi-agency tasking and coordinating meetings and is also discussed at the fire-related anti-social behaviour group.
"Various actions agreed at these meetings have been undertaken in an attempt to reduce the occurrence of deliberate fires."
The news comes just days after more than 40 firefighters were called to a blaze at the former Baldragon Academy building on Burn Street on Saturday.
Police Scotland Chief Inspector Nicky Russell said they were keen to speak to a group of youths seen in the area around the time of the fire.
The report said the number of unwanted fire alarm signals caused by automatic fire alarms in non-domestic buildings is above the three-year average for quarter three.
During quarter three a total of 55 unwanted fire alarms took place between October and December.
In the same period a total of 53 unwanted alarms took place in hospital and medical facilities in the area.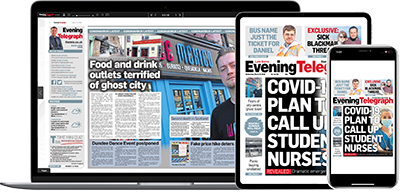 Help support quality local journalism … become a digital subscriber to the Evening Telegraph
For as little as £5.99 a month you can access all of our content, including Premium articles.
Subscribe