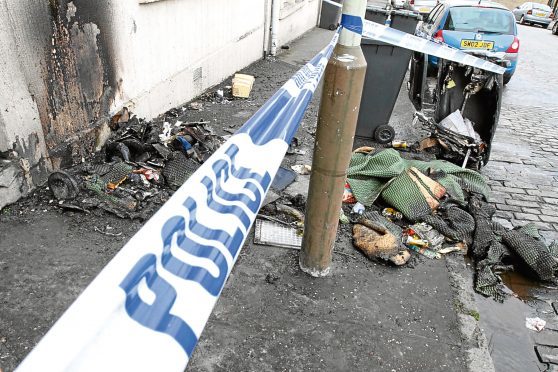 Fire crews have had to deal with hundreds of deliberate wheelie bin fires across Dundee.
Data released under freedom of information legislation shows that there were 90 deliberately set wheelie bin fires across the city from April to November last year.
This figure is despite the number of wheelie bins on the streets having been significantly reduced through the introduction of the controversial Eurobins programme.
There were also two accidental fires — one in the East End and the other in Strathmartine — during the same time frame, and seven fires where the cause was not known.
Previously, in 2016/17, fire crews dealt with 226 fires.
Of those, 200 were deliberate and eight accidental, with the cause of the other 18 not known.
The year before, there were 159 fires and 133 of those were ruled as being deliberately set. A further four were accidental and for 22 examples the cause was undetermined.
The North East ward was the worst hit area for deliberate wheelie bin fires between 2015/16 and the end of 2017 ­— with 174 incidents.
Councillor Brian Gordon, who represents the ward, said the impact of wheelie bin fires could be "devastating" as was seen last year when the Mill o' Mains pavilion was gutted by a blaze that started after someone had set a bin alight.
He said: "People are going to need to be vigilant and watch for youngsters.
"They are not moving these wheelie bins to do anything constructive — they are taking them some place to burn them and it is very dangerous.
"If you look at the Mill o' Mains Pavilion fire last year, that was started from a wheelie bin fire.
"If there were people in that building at the time, it would have been a complete catastrophe. People are getting fed up of this behaviour — it is costing time, it is costing money.
"It is causing the fire service to be out dealing with something unnecessary and it could delay them getting to something where people's lives are in danger."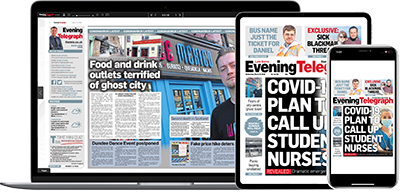 Help support quality local journalism … become a digital subscriber to the Evening Telegraph
For as little as £5.99 a month you can access all of our content, including Premium articles.
Subscribe