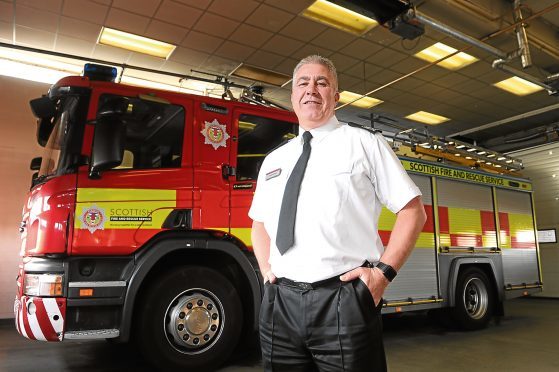 The Scottish Fire and Rescue Service has revealed its plans to cut the number of casualties by 10% and the number of accidental house fires by 20% over the next decade.
Emergency services are set to play a more proactive role in public protection under proposals drawn up in Dundee's new City Plan.
The fire and rescue service is among several agencies that have helped to shape the plan's community safety priorities. As well as its plans to cut casualties and accidental house fires, the service will also take aim at anti-social behaviour, in a bid to reduce the number of deliberate fire incidents from 763 last year to 534 by the end of the plan period in 2026.
Mr Grieve said it was important to have ambitious targets.
He added: "These are aspirational figures but, with that, you would hope to achieve that figure and more.
"It comes back to the matter of all the constituent parts coming together. One action by one agency or one party won't necessarily give you your desired outcome.
"You are going to be reliant on developing procedures in partnership that will allow you to reduce these even further."
He gave secondary fires — small fires started in bins or on grassland — as an example of working together.
He said: "Generally, secondary fires are caused by some form of anti-social behaviour. From the Fairness Commission, we know that a lot of anti-social behaviour is caused by groups of people who, by and large, are in the demographics that are disadvantaged, financially or in another way.
"These concerns don't just affect community safety and justice — they go into children and families and health and wellbeing."
Other community safety priorities in the plan include reducing reoffending, cracking down on domestic abuse and establishing a road safety forum.
However, Mr Grieve said the fire service had aspirations for widening its approach to helping city people get help where they need it.
He added: "A really good example would be if fire service staff are in someone's property, they might identify signs of dementia or financial harm, and can point them to agencies to get the help they need. It's not so much doing each other's jobs as assisting each other.
"Dundee has worked in partnership for the last 15 to 20 years but this plan is aspirational in how we're going to take the city in a new direction. All the partners are working together to achieve the same outcomes. Ultimately, it's the plan we'll all work to."