A Dundee-born veteran wants to raise £1 million for motor neurone disease (MND) research by rowing solo across the Atlantic ocean in a death-defying challenge.
John Davidson, 56, plans to undertake the gruelling journey wearing a kilt and with just 180 days of training, compared to the two years normally required to prepare for the perilous journey.
The former SAS soldier and "proud Fintry boy" said although there have been deaths during the challenge in the past, he is not worried and is ready to face the sea despite never having rowed before.
John, who lives in Worcestershire, was inspired to sign up for the Talisker Whisky Atlantic Challenge, beginning on December 12, after meeting with rugby legend Doddie Weir.
All money raised would be donated to the My Name'5 Doddie Foundation, which funds research into MND.
John said: "I met Doddie at a Scotland-England game when I was with my son Hamish.
"Hamish had been told by his school that he was too small to play rugby and Doddie took great offence to that.
"He took him under his arm and gave a truly inspirational speech about how we shouldn't let anything hold us back.
"Hamish is now 12 and playing rugby.
"Doddie was such a great inspiration and it was devastating to hear that he had been diagnosed with MND.
"I decided that I wanted to raise awareness and money for this cause and I wanted to do something that would really push the limits. I have never rowed before but I'm confident that I will be able to prepare for this challenge."
John will be rowing from the Canary Islands to Antigua in a small boat called the Mad Giraffe.
There have only been 85 people who completed the challenge, called "the toughest endurance race on the planet", which should take an average of 60 days at sea – rowing 18 hours a day and consuming 8,000 calories.
"I want to show people that you can still achieve great things when you're over 50 and I want to inspire people in Dundee – I live in Worcestershire now but I'm a proud Fintry boy."
To sponsor John, visit justgiving.com/fundraising/madgiraffe atlanticrow.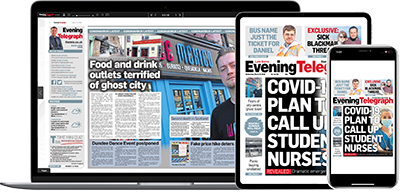 Help support quality local journalism … become a digital subscriber to the Evening Telegraph
For as little as £5.99 a month you can access all of our content, including Premium articles.
Subscribe