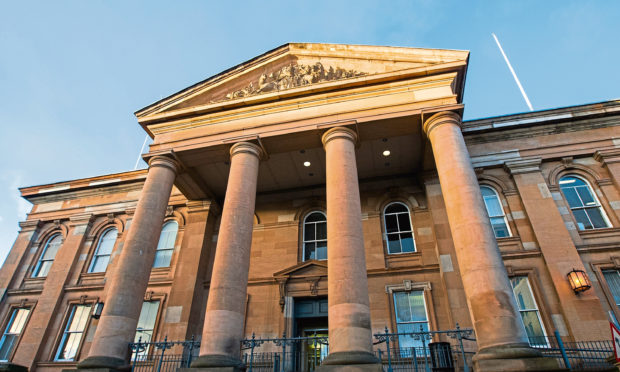 A businessman was fined after he admitted launching a homophobic attack on a man he believed was illegally parking in a disabled space.
Former RAF serviceman Alexander Barclay, 54, shouted "I'll make you f****** disabled" at Josh Collins before smashing his glasses during the unsavoury scenes at Barnhill's Campfield Square Shopping Centre last December.
Dundee Sheriff Court heard that Barclay, who suffers from post- traumatic stress disorder, claimed Mr Collins almost ran over his dog with his car.
He also claimed Mr Collins told him to "f*** off" after challenging him about parking in the disabled bay.
However, this was dismissed by Sheriff John Rafferty who ruled that Barclay was not provoked and fined him £800.
The court heard that Mr Collins and another witness heard shouting from outside the Barn pub just before 10pm after parking in the bay.
Barclay, who owns a model shop, was heard to shout: "Are you f****** disabled?" but the pair continued about their business.
Matters quickly escalated and Barclay shouted: "I'll make you f****** disabled."
Prosecutor Laura Hogg told the court: "One of the witnesses told the accused to leave it because they didn't want any hassle.
"However, the accused continued to shout and told the witness Collins to move his car. The accused sat on the bonnet of his car.
"The witnesses ignored the accused and entered a store, however, they quickly left as they were concerned the accused would damage the vehicle."
The fiscal added: "The accused then grabbed the witness Collins by the neck of his jacket which caused the witness to choke momentarily.
"The accused grabbed his spectacles from his face, broke them and throw them to the ground."
Mr Collins spent the next few minutes picking up his glasses while Barclay shouted homophobic slurs at him before leaving the scene.
It is estimated the cost of the damage to the glasses was about £500.
Barclay, of Strathmore Place, pleaded guilty to shouting, swearing, sitting on the bonnet of Mr Collins' vehicle, gesticulating, shouting homophobic remarks and making violent threats on December 1 last year.
He assaulted Mr Collins by seizing hold of him, pulling his glasses from his head and breaking them.
---
---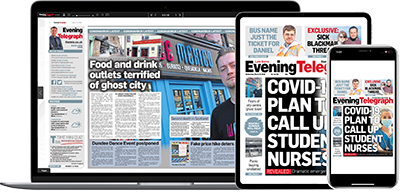 Help support quality local journalism … become a digital subscriber to the Evening Telegraph
Subscribe