It's a lamentable case of 'too little, too late' for Luke Scott's sci-fi thriller, which fails to deliver on the promise of a tantalising premise.
Audiences who shuddered last year during Ex Machina, Alex Garland's Oscar-winning meditation on artificial intelligence, may experience a fleeting shiver of deja vu during Morgan.
Philosophical questions about humanity and consciousness are addressed here in a similar fashion by scriptwriter Seth Owen in the claustrophobic setting of an isolated research facility located far from prying eyes.
At this molecular level, the two films could be genetic clones.
Scott's film diverges wildly from its sleek and superior predecessor in both execution and intent, squandering a moderately suspenseful build-up with a blood-spattered resolution that plays more like a slasher movie.
Serious questions about mankind's meddling with the laws of nature are lost amidst the screeching tires of a perfunctory car chase, and a sole narrative twist is clearly signposted almost an hour before the big reveal.
In a top-secret facility surrounded by dense woodland, a group of scientists led by Dr Simon Ziegler (Toby Jones) bioengineers a being with synthetic DNA, which they christen Morgan.
Their pale-skinned creation grows quickly – she is talking and walking after one month.
By the age of five, Morgan (Anya Taylor-Joy) resembles a young adult and is lovingly referred to as "she" by the rest of the team, which includes project manager Ted Brenner (Michael Yare), scientist Dr Lui Cheng (Michelle Yeoh), psychoanalyst Amy (Rose Leslie), behavioural psychiatrist Kathy (Jennifer Jason Leigh), project nutritionist Skip (Boyd Holbrook), military medicine specialist Brenda (Vinette Robinson) and lab technician Darren (Chris Sullivan).
When Morgan is denied access to the grounds, she petulantly attacks one of the team and inflicts horrific injuries.
Risk management consultant Lee Weathers (Kate Mara) arrives soon after at the behest of the project's funders to investigate the "incident involving an L9 prototype".
Lee must assess the team's failings, any fatal lapses in protocol and make a binding judgement about whether to terminate Morgan.
The bioengineered subject is chillingly aware that Lee is at the facility "to evaluate my viability as a product stream… in light of recent events".
A battle of wits ensues and Lee welcomes Dr Alan Shapiro (Paul Giamatti) to lead the psychological evaluation of the hybrid, who is far more cunning than she appears.
Morgan is ultimately a schlocky horror show with impressive production values and solid performances from some of the stellar cast.
Mara radiates cool detachment as a woman who won't allow emotion to cloud her clinical judgement, while Taylor-Joy imbues her genetic monstrosity with childlike wonder and menace.
Jones, Yeoh and Leigh are gifted undernourished supporting roles that don't test their acting mettle.
We decide to terminate the Morgan program well before the film's protagonist reaches her conclusion.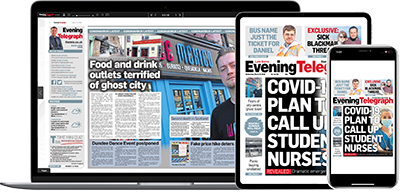 Help support quality local journalism … become a digital subscriber to the Evening Telegraph
Subscribe