A lifeline could be thrown to hundreds of children whose lives are blighted by so-called holiday hunger.
If approved, lunches will be served at some Fife schools throughout the holidays, a time when low-income families can struggle to put an additional meal on the table each day.
Fife Council's administration intends to set aside £400,000 in its budget for the coming year to trial the scheme.
Up to 700 meals would be served each day at 24 primary schools across the kingdom, starting in the Easter holidays and continuing through the summer, October and Christmas breaks.
Community and housing services convener Judy Hamilton said she hoped the initiative would win cross-party support.
She said: "All of our foodbanks are reporting that they are oversubscribed and this would relieve the pressure on families and on foodbanks.
"It's a disgrace that people can't afford to feed their families through no fault of their own.
"If there is anything we can do to help these families through the school holidays we should do it. It's a long time to be away from support."
The proposal will be voted upon when the council sets its budget for 2019-20 later this month.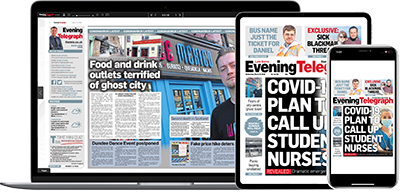 Help support quality local journalism … become a digital subscriber to the Evening Telegraph
For as little as £5.99 a month you can access all of our content, including Premium articles.
Subscribe