A Dundee-born nurse who became the first woman in almost half a century to conquer a remarkable test of strength has been congratulated by the Scottish Parliament.
Leigh Holland-Keen, 29, lifted the Dinnie Stones – two granite boulders that together weigh 733lb – in front of a crowd of 400 people.
She was the first female in 40 years to do so and one of fewer than 100 people who have accomplished the feat.
Ms Holland-Keen, who now lives in Australia, made history at Potarch, on Deeside, where the stones sit outside the Old Potarch Hotel.
A North-East MSP has now marked the Sydney strongwoman's feat with a motion at Holyrood.
Scottish Conservative Alexander Burnett said: "Fewer than 100 people have managed to lift the stones since Donald Dinnie carried them the length of the Potarch Bridge in 1860.
"Leigh was the first woman to do so in about 40 years. Quite rightly, her story has been celebrated by the media in her home country.
"I hope more strong women and men are inspired to come and try their hands on the Dinnie Steens as a result."
The former Lawside Academy pupil said: "I was ecstatic and it was surreal that all these legends were clapping for me and hugging me.
"That was the most special thing for me – all these 70 and 80-year-olds who did what I was doing back in their day."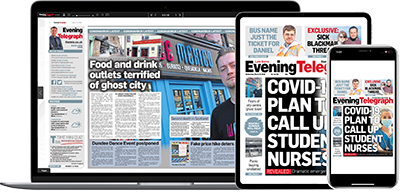 Help support quality local journalism … become a digital subscriber to the Evening Telegraph
Subscribe