A drugs worker has warned of a "significant" rise in the purity of cocaine circulating in the city – which he said could lead to an increase in the number of drug-related deaths.
Addaction service manager Dave Barrie said the drug was now normalised among young people and users were openly taking it in pubs and clubs.
He said it could lead to people taking other drugs and addicts turning to crime to fund their habits.
"We have seen a significant increase in cocaine issues among people accessing our services," he said.
"It's causing us real concern. It looks like the purity of cocaine has increased, particularly in the past year, and therefore the problems have also increased.
"When the drug wasn't as pure, people weren't getting as heavily addicted. But now we are seeing that it is having a really significant impact on people's mental health. It's linked to depression, anxiety, sleep issues and even suicide.
"People can be spending hundreds of pounds every few days which is obviously a significant issue as well. As a result, people can get in debt or turn to crime to feed their habit."
Mr Barrie said there were several theories about the spike in purity.
One suggestion is the cutting agents commonly used are becoming more tightly regulated. Dealers are therefore finding it easier to charge more and sell the drug at a purer grade.
Mr Barrie added: "Cocaine can be linked to the use of other drugs. People might be turning to street valium to bring themselves down after a cocaine binge, which is a serious risk of overdose.
"Cocaine appears to be a lot more socially acceptable and normalised, which is worrying. I've heard of people openly taking it in toilets in front of people. They are not hiding in cubicles.
"Another person I know said he witnessed a group of people taking it in a local snooker hall at 3pm on a Saturday.
"For people in their 20s, it seems to be rife and almost the norm."
Suzie Mertes, Police Scotland's partnerships superintendent in Tayside, said: "Tackling drug crime is one of our top priorities. Operation Slate, our initiative to tackle drug-related criminality, was launched in Tayside Division a number of years ago and continues to be successful in removing illegal drugs from our streets."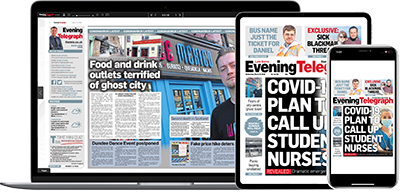 Help support quality local journalism … become a digital subscriber to the Evening Telegraph
For as little as £5.99 a month you can access all of our content, including Premium articles.
Subscribe