Elderly residents are being warned to stay alert after reports of pensioners being targeted by late-night scammers.
Dundee Pensioners' Forum has issued safety advice after reports of people knocking on doors at Garry Place sheltered housing and St Columba Gardens in the middle of the night.
The forum said a female resident at Garry Place in Downfield had a male knocking on her door three nights in a row on January 10, 11 and 12 at 2am and 4am.
On the third night, a couple knocked on her door claiming to be from the community alarm scheme responding to a call about the woman falling – even though she had not fallen.
In a separate incident, on January 17, a resident of St Columba Gardens in St Mary's said a male and female had buzzed her flat claiming they were there to carry out resident visits.
She did not let them enter but it is believed to be the same couple who attempted to gain entry to the property on Garry Place.
Forum secretary Dorothy McHugh said: "We were alerted to this by local police and were horrified – it is horrendous.
"Unfortunately, older people are more likely to trust others and open their doors. It's despicable to hear about.
"It's likely to be the same people who are targeting elderly residents because it's the same sort of area.
"We have not had more people coming to us about these incidents so we can't say there has been a rise but it's something we've seen happening recently.
"Our advice would be not to open your door and to be more cautious."
She added: "I knock on doors during elections and I am shocked by how many elderly people just say 'come in'."
Dorothy admitted it was difficult to crack down on people who target elderly residents.
She said: "I think the main way things are going to improve is in terms of raising awareness about these incidents.
"People are too trusting so they need to be educated to help keep themselves safe."
Anyone who may have any information on the recent incidents is asked to get in touch with the police on 101.
Police Scotland had not responded to a request for comment at the time of going to press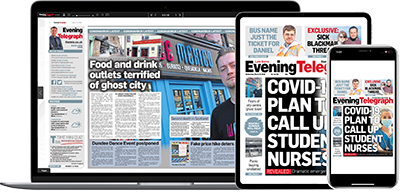 Help support quality local journalism … become a digital subscriber to the Evening Telegraph
For as little as £5.99 a month you can access all of our content, including Premium articles.
Subscribe