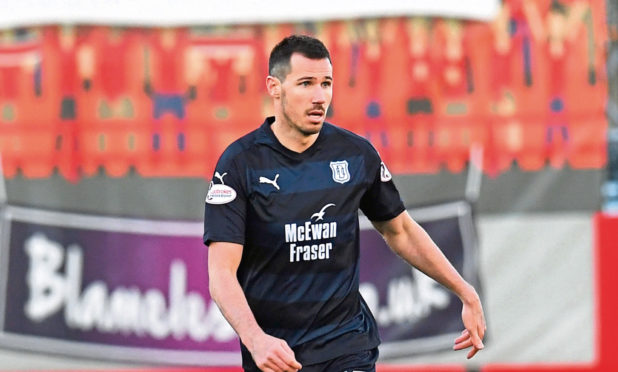 Far-travelled Ryan McGowan believes Scottish footballers don't realise how lucky they are as they make their way in the game without having to give up their home comforts.
When the 29-year-old signed for Dundee on loan from Bradford City at the end of last month, it took his tally of clubs in a 13-year senior career to 11.
And having turned out for outfits in his native Australia, Scotland, China, the United Arab Emirates and England during that period, he's clocked up more air miles that your average long-haul airline pilot.
Having always known he'd have to travel round the world to make a career in football, the Socceroo believes it's made him more open to hop from one country to another.
That, he's learned, is in contrast to many of the friends he's made here in Scotland.
"Scottish kids probably don't realise how lucky they are. They've got something like 15 full-time clubs within a three-hour drive of where they've grown up," he said.
"When I was growing up in Adelaide, we had one team and then it was a two-hour flight to the next closest.
"So if you weren't good enough for that team, you had to work harder and be prepared to shift around.
"I know boys here who only want to play for teams in or near Edinburgh – and they can.
"Scottish boys are very lucky to have so many clubs and opportunities without having to move."
While he's no regrets about his nomadic career, McGowan admits the chance to hang around in one place for a prolonged period is growing more attractive.
Particularly if that place is here in Scotland, the country he regards as his adopted home.
"I do sometimes think I'd love to sign a two or three-year contract somewhere again," he added.
"I would have probably have loved to have stayed on at Hearts for a couple of more seasons and I was enjoying my time at United when I was there but bids came in and were accepted.
"And having an Australian passport does open doors in Asia, which is why I've ended up there a few times."
If the chance arises to stay at Dundee long-term, he admits it's something he will give serious thought.
He has not, and will not, look that far ahead until he's helped the Dark Blues out of their current predicament.
"A couple of weeks ago moving to Dundee hadn't even come onto my horizon. Everything has happened quickly and I just want to make sure that, first and foremost, we stay in this league.
"When the summer comes, if an opportunity arises to stay I will definitely consider it but there is a lot of work to be done between now and then."
He is confident by the end of the season Dundee will be safe.
"It's been really good so far. They are a great bunch of boys and they have made me feel really welcome in the dressing-room.
"I've kicked most of them when I was playing here in seasons gone by so I know most of them.
"There's a good manager in Jim McIntyre to work under as well. I'm showing my age here but I've actually played against him when I was a young player on loan at Ayr from Hearts.
"He was coming to the end of his career then and later I played against a couple of his teams once he'd become a manager.
"I'm quite close with a couple of players who have played under him and they spoke highly of him and that was more of a factor in coming here.
"Having played across the road I also knew how big a club Dundee is. It's a good club, in a difficult position at the minute but definitely one we can get out of."