Fans have given a huge thumbs up to Dundee's first major music festival in more than a decade.
Thousands of people turned out for Carnival Fifty Six at Camperdown Park at the weekend to enjoy acts including Mark Ronson, Rudimental and The Charlatans.
The event was more than a year in the planning, and the first of its kind to take place in the city since Radio 1's Big Weekend in 2006.
From the moment the doors opened at noon on Saturday, the party was in full flow as revellers lapped up a host of acts.
It's yet to be confirmed if the festival will return in 2018 but the reaction of those in attendance at the weekend suggests there is an appetite for more.
Judith Gaffney, 29, a nurse from Barnhill, (pictured below) said: "It's been amazing.
"My favourite act was Exxe Elle — her energy was unbelievable."
Megan McRobbie, 22, a nurse from Menzieshill, said the festival had "put Dundee on the map".
She said: "I loved The Charlatans. I really hope that this kicks off and becomes a big thing for the city.
"Hopefully it can be bigger than T in The Park."
Local acts including Kyle Falconer, The Law and Be Charlotte all received a great reception from their home town crowd.
The latter said on stage it was "surreal" to be playing in front of her home audience on such a large scale, just a couple of years after she left school to pursue a career in music.
Kerry Medford, 29, an events manager from Arbroath, added: "It's been super — a great atmosphere.
"It was about time that Dundee got something like this.
"It's great for the city. The weather has been great and the VIP area was great. What more can you ask for?"
The Rhumba Festival of House tent attracted some of the biggest crowds of the weekend to see acts such as Basement Jaxx and Hot Chip.
And there wasn't just music on offer as revellers were kept entertained with live comedy in the Discovery Live tent.
Jen Macdonald, 40, from Kirkton, said: "The sun was out, great bands and music, everyone's having fun — it's been brilliant.
"It's just been so good to see people enjoying themselves and loving it."
Dundee West MP Chris Law was also among the music-lovers at Camperdown.
He said: "It is an absolutely fantastic thing for the city.
"There is only one route for Dundee in terms of our creativity and being a place for people to come to. Carnival Fifty Six has been the pinnacle of the summer."
Today, police revealed there had been just four arrests over the weekend — two for alleged assaults and two for alleged breaches of the peace.
A force spokesman said: "There were also 23 incidents of people being found in the possession of suspected controlled drugs and these matters will be dealt with by way of reports to the fiscal or Recorded Police Warnings as appropriate."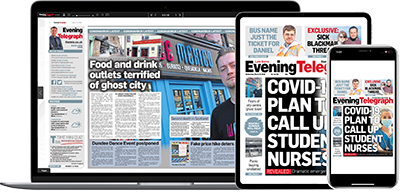 Help support quality local journalism … become a digital subscriber to the Evening Telegraph
Subscribe