The family of a man who took his own life days after he was allegedly turned away from Carseview have repeated calls for a fatal accident inquiry (FAI) into his death.
David Ramsay, 50, died by suicide in 2016 after pleading for help from mental health staff.
It has now emerged that Mr Ramsay's GP, Dr Laura Hood, had visited him at home and requested that psychiatric staff give him an "urgent assessment" the same day.
Dr Hood wrote to Mr Ramsay's family to confirm she had tried to get him help.
And a letter she sent to Carseview staff appears to have disappeared from his medical records.
In her letter, Dr Hood said: "I discussed this man at length with the on-call crisis team over the phone and requested an urgent assessment that afternoon by the on-call team as I felt he would benefit from admission to Carseview.
"As GPs we cannot admit directly to wards, so all patients are assessed by the specialised teams after referral to determine appropriate ongoing management.
"As far as I am aware, the practice did not receive any documentation relating to this initial assessment."
Mr Ramsay's niece Gillian Murray said she believed Dr Hood had done "everything she could" to help, laying the blame for his death squarely at Carseview's door.
She told the Tele: "It's clear as day that NHS Tayside have failed David. Instead of being open and honest with us at the beginning, they have put my family and me through an unimaginable hell, and for that, I will never forgive them."
Mr Ramsay's family are continuing to push for an FAI.
Only one has been held into the death of someone shortly after they left Carseview, for 29-year-old Dale Thomson. A sheriff concluded his death had been "unavoidable".
Gillian added: "An FAI needs to be held. His dad deserves to know why his son was failed and those responsible for the failures and 'losing' medical records need to be held to account."
A spokesman for NHS Tayside said: "As this is a legal case we are unable to comment."
The Crown Office and Procurator Fiscal Service (COPFS) decides whether or not FAIs should be held.
A COPFS spokesman said: "COPFS can confirm that we have received correspondence from the family of David Ramsay.
"Our investigation is currently ongoing. Once complete, Crown Counsel will consider whether or not it is in the public interest to hold a discretionary Fatal Accident Inquiry into Mr Ramsay's death.
"The decision will be made as soon as practicable and we will continue to update Mr Ramsay's family with any significant developments."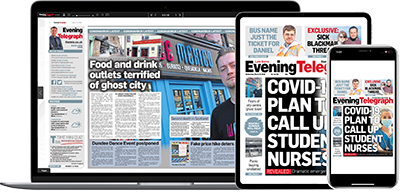 Help support quality local journalism … become a digital subscriber to the Evening Telegraph
Subscribe