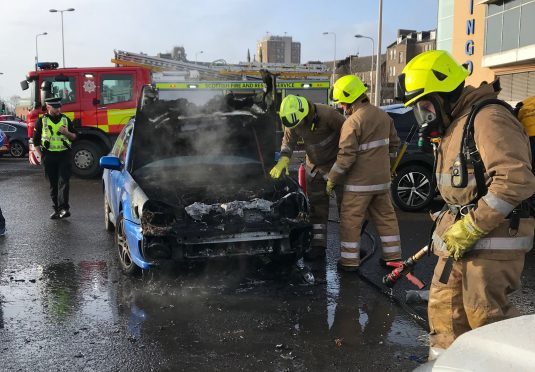 A family of five had a lucky escape after their car caught fire as they travelled across the Tay Road Bridge.
The occupants were travelling across the bridge at lunchtime on Saturday in a blue Subaru Impreza estate, which developed a fault mid-crossing.
Rushing to find a safe place to stop, the two adults and three children, who had been travelling from Fife, leapt from the vehicle as the engine burst into flames.
Fire crews were on the scene within minutes, and made use of breathing apparatus to bring the "well-alight" blaze under control.
The car's owner, who did not wish to be named, said she believed something had gone wrong with the car's turbocharger, causing the engine to overheat.
"We were just coming across the bridge when we think the turbo went," she said.
"We were rushing to find somewhere to stop the car, as we knew it was going to catch fire.
"It's a good thing we have another car we can fall back on."
Ewan Bryant, 25, was passing the scene and said the sky was "filled with smoke" from the dramatic blaze, which melted away part of the car's bonnet along with most of its front end.
He said: "I was just walking down the Waterfront with a friend when we saw the fire engine scream past towards the car park.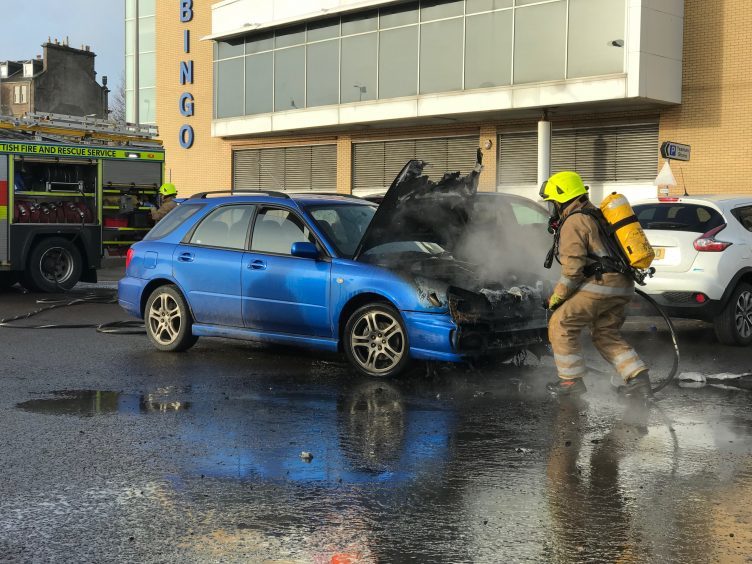 "The smoke was really thick and it was filling the sky, but the fire crew got it under control really quickly and everybody seemed to be okay."
A spokesman for the Scottish Fire and Rescue Service said they had received the call at 12.17pm and sent one appliance to the scene.
He continued: "We extinguished the fire with a single hose reel jet and breathing apparatus, and were there until 12.40pm."
Officers from Police Scotland who were in the area also attended, and made a provisional assessment of the cause of the blaze.
A spokeswoman for the force said: "The vehicle was well-alight when we attended, but it was brought under control by fire officers. The cause of the fire appears to have been an electrical fault and no injuries were reported."