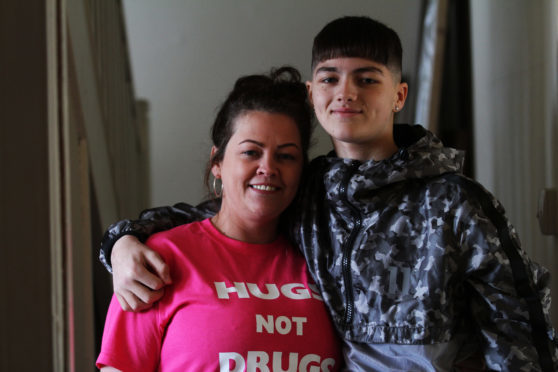 Dundee teen Lennon McKay is lucky to be alive — and his family is only too aware of that.
In the days leading up to Christmas, during an all night Snapchat session which saw youngsters dare each other to take drugs, Lennon took a red and white capsule and, within half an hour, became unconscious.
He spent the next 10 days fighting for his life.
Now they have got their boy back, they are determined to continue their campaign to stop what happened to Lennon happening to other city teenagers.
Lennon's aunt Ashley Moodie, with the support of Lennon's parents Stacylee McCarron and Fraser McKay and stepmum Laura Smillie, has launched the Hugs not Drugs Campaign.
Ashley said: "This has been a terrible time for our family.
"We want to do everything we can to stop other kids in Dundee taking drugs.
"Lennon wasn't the first this happened to and he definitely won't be the last — but we can't sit back and do nothing.
"We are an incredibly strong family and are there for each other.
"We nearly lost Lennon — that's the worst thing that can happen, sitting waiting for a child to die.
"Through some miracle, Lennon survived and we are so grateful. Now we want to stop this happening to others.
"In the months to come, I'd really like to go into schools with Lennon and tell his story."
The family is set to hold a fund- raising day in the city later this month.
They are holding a full day and evening of events at the Ambassador pub in Clepington Road on February 17 to raise money for Ninewells ICU and to highlight the dangers of drug-taking.
They are also selling "Team Lennon" T-shirts, to raise money for the unit.
Ashley said: "Already we have sold more than 120 T-shirts and we have more coming.
"Other people are also fundraising for us. We want to raise as much as possible."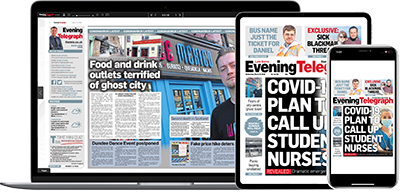 Help support quality local journalism … become a digital subscriber to the Evening Telegraph
For as little as £5.99 a month you can access all of our content, including Premium articles.
Subscribe