The number of smokers in Dundee has fallen by 12% in the past four years.
Across the city, 4,419 fewer people chose to light up in 2016-17 compared with 2012-13.
The total number of smokers fell from 35,649 to 31,230.
People in the city are also finding it easier to quit, with about a fifth of people having kicked the habit prior to a 12-week follow-up appointment.
Andrew Radley, consultant in public health pharmacy for NHS Tayside, said he is "delighted" that the number of smokers is falling.
He said: "Every pharmacy in Tayside offers the 12-week programme for smoking cessation.
"We also work with schools across Tayside to prevent young people from taking up smoking.
"In 2003, 25% of 15-year-olds in Tayside had smoked and that figure fell to 6% in 2013.
"Young people are increasingly realising that it's a really silly thing to do."
The health board is working to reduce even further the number of people who smoke in line with the Scottish Government's vision to create a generation of tobacco-free Scots by 2032.
Across Scotland, smoking cessation services have failed to meet performance standards for the sixth year running.
NHS statistics have revealed that 55,369 attempts to quit were made in 2017-18, a 7.4% decrease on last year's figure of 59,767 and a decrease of 54.4% since 2011-12.
Research published by the British Lung Foundation Scotland earlier this year revealed that nationally there has been a 40% decrease over two years in the number of prescribed nicotine replacement therapy drugs in Scotland.
The charity's Joseph Carter said: "It's welcome to see a fall in the number of smokers in Dundee, although it is concerning that fewer people are making use of specialist support services to help them to quit smoking successfully.
"With prescriptions for nicotine replacement therapy drugs decreasing by 40% in two years in Scotland, we must ensure that people who need help to quit smoking can access the right support to do so.
"For those who are current or active smokers, using an e-cigarette is much less harmful than smoking tobacco and it can be a useful tool to help people transition from cigarettes to quitting smoking altogether.
"However, further research is needed to understand the long-term impact of e-cigarette use."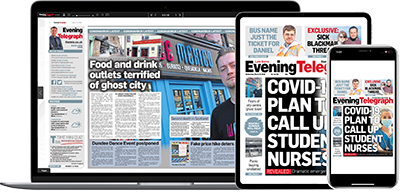 Help support quality local journalism … become a digital subscriber to the Evening Telegraph
For as little as £5.99 a month you can access all of our content, including Premium articles.
Subscribe