Foodbank use in Dundee still remains high — despite fewer parcels being handed out in the last year, according to the local manager.
Figures published by the Trussell Trust, which manages a network of foodbanks across the UK, show 7,234 three-day parcels were provided in Dundee in 2017/18.
More than 2,000 of those who received food parcels were children.
That represents a 25% drop from 9,547 in 2016/17 and bucks the trend on foodbank use across the rest of Scotland, which is on the rise.
However, Ken Linton, manager of Dundee Foodbank, which is based in Constitution Street, said it was "as busy as ever".
He said: "We're still incredibly busy — the reason the numbers have dropped is because we stopped the fuel vouchers scheme, which had seen us provide 2,000 parcels more than we usually do. We're still getting 140-150 people in every week and it's different people all the time."
Foodbank use continues to rise across the rest of Scotland.
More than 170,000 three-day parcels were given out to people in crisis in 2017/18, a 17% rise on the previous year.
The Trussell Trust believes the benefits system is to blame.
Tony Graham, the charity's director of devolved nations, said: "It's completely unacceptable that anyone is forced to turn to a foodbank in Scotland and we'll continue to campaign for systemic change until everyone has enough money coming in to keep pace with the rising cost of essentials such as food and housing."
A spokeswoman for the Department for Work and Pensions said: "The reasons why people use foodbanks are complex, so it's wrong to link a rise to any one cause."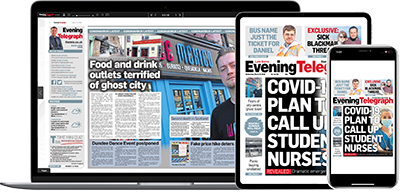 Help support quality local journalism … become a digital subscriber to the Evening Telegraph
For as little as £5.99 a month you can access all of our content, including Premium articles.
Subscribe