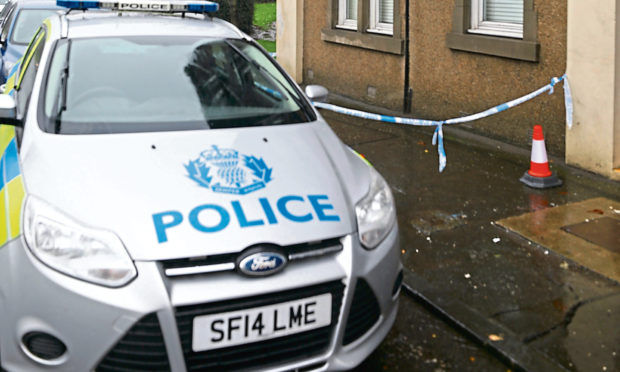 A two-year-old girl who fell from the window of a Dundee flat has spent the night recovering in hospital.
Officers were called to an address on Logie Street after the toddler plunged from the first floor.
The incident, in which the girl suffered a head injury, happened at around 10.15am on Thursday.
She was taken to Ninewells Hospital.
Yesterday, a police spokesman said after being assessed, the girl was not thought to have life-threatening injuries.
She was kept in overnight for observation.
Police officers remained stationed outside the property yesterday.
Shocked neighbours described the horrifying moment they saw the tot lying "limp and lifeless" on the ground.
One said: "The first thing I heard was a lot of banging and screaming.
"I ran to see what was happening and the little girl was lying on the pavement below.
"She was in her pyjamas and lying face-down on the pavement with the rain battering down on her. The front door was being banged and kicked by a passing taxi driver who was trying to get into the building to get her parents.
"A young female passenger in his taxi was screaming and phoning the ambulance."
Another neighbour said: "The dad ran down the stairs and picked her up and carried her into the close.
"I think she had been knocked out but when she got back inside she began to scream so I think she must have come round.
"There were loads of police and the ambulance arrived.
"This is a terrible thing that's happened to her. I really hope she is going to be all right."
Shortly after the incident, a spokesman for Police Scotland's Tayside Division said the girl had been taken to hospital with a head injury but had been conscious at the scene.
He added: "She has been taken to Ninewells Hospital for treatment and officers will remain at the scene while inquiries into the circumstances are made."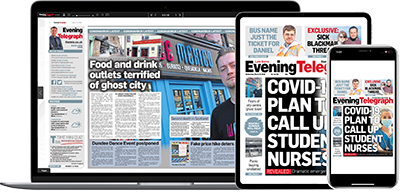 Help support quality local journalism … become a digital subscriber to the Evening Telegraph
Subscribe