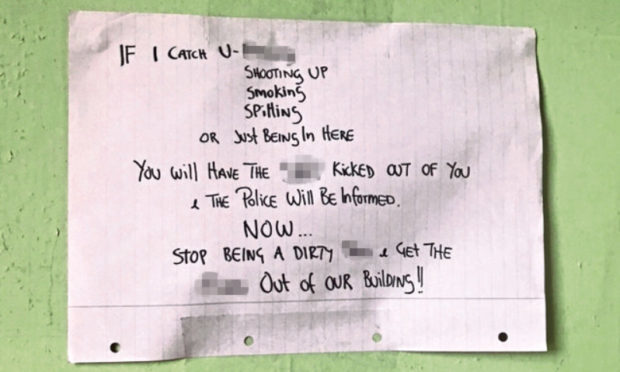 Residents at a block of flats are "disgusted and outraged" after human faeces, drug paraphernalia and litter were dumped on the stairs of their close.
The Dens Road building has had a broken front door for at least four months – which has enabled unknown members of the public to enter.
One resident put up a sign in the close threatening to assault the intruders if they returned to the premises. It has since been removed.
Resident Christian Fontana, 42, said: "I've never seen anything like this mess before and it's very concerning.
"I was the one who had to clean up the faeces. I couldn't let anyone see that. I've got compassion for people who have problems but it would be nice if they cleaned up after themselves when they leave."
Another resident also expressed concerns about the broken door.
The 24-year-old student, who declined to be named, said: "It's really gross – this is our home and someone is just coming in and using it as a toilet.
"I hope the door is fixed before winter because it will just get worse.
"It's definitely not someone who lives in the building who's doing it."
The building is privately owned and Dundee City Council is continuing to assist residents with the matter.
A Police Scotland spokesman said residents should not put themselves at risk and if they are experiencing antisocial behaviour in a common close they should contact their landlord.
He added: "Any person who urinates or defecates in such circumstances as to cause, or to be likely to cause, annoyance to any other person is guilty of an offence and liable to a fine.
"If an incident requires immediate police attention or urgent action, they should call us on 101 or 999 in an emergency."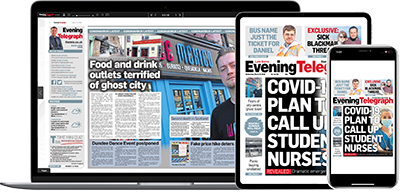 Help support quality local journalism … become a digital subscriber to the Evening Telegraph
Subscribe