A frustrated  and foul-mouthed motorist has made their thoughts on car clamping clear following enforcement action against untaxed vehicles.
A silver Vauxhall Astra was left with a clamp on its front wheel after being inspected by officials from the DVLA.
But the owner of the car, who is unknown, appears to have little interest in having the clamp removed.
Graffiti reading "f****** keep it", apparently addressed to the DVLA, was scrawled across the bodywork.
The car was abandoned in the car park outside Adamson Court in Lochee, and had people in stitches as they responded to a photo of the car being shared online.
One wrote: "People make Lochee," while another noted: "One of the reasons I miss Lochee."
The DVLA confirmed it had carried out enforcement action, attaching clamps to more than 80 untaxed vehicles.
A spokesman for the agency said: "As part of its day-to-day enforcement, DVLA's national wheel-clamping partner, NSL, clamps or impounds any untaxed vehicles seen on the road.
"We can confirm that more than 80 untaxed vehicles were clamped in the Dundee postcode area between June 4 and 12.
"It is right that we take action against those who don't tax their vehicles and then drive them, otherwise it wouldn't be fair to those who do the right thing.
"Clamping is one of a range of measures we use to make sure these untaxed vehicles are not driven on the road."
Untaxed vehicles can pose a risk to law-abiding road users, according to the agency, as those driving without road tax may not have a valid MOT certificate, invalidating any insurance policy.
If a car owner wishes to keep their car off the road for an extended amount of time, they must request a statutory off-road notice from the DVLA to avoid receiving a fine.
Failing to tax a vehicle is subject to a fixed £80 fine, while removing a clamp costs £100.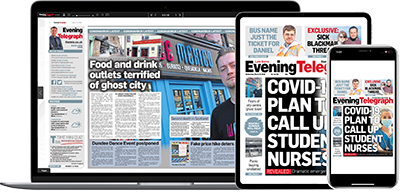 Help support quality local journalism … become a digital subscriber to the Evening Telegraph
For as little as £5.99 a month you can access all of our content, including Premium articles.
Subscribe