Tourists heading to southwestern Europe are being warned to take extra care as record-breaking temperatures are predicted for later this week.
Forecasters are advising holidaymakers in Spain, Portugal and southwest France to prepare for extreme heat by staying inside during the hottest parts of the day and keeping hydrated.
Very hot weather is expected to build up due to hot air coming up from North Africa – particularly over southwestern Europe.
Spain's record high is 47.3C (117.14F) and Portugal's is 47.4C (117.32F), but these temperatures "could well be beaten", according to Sky weather presenter Isobel Lang.
The all-time continental European maximum is 48C, recorded in Athens, Greece, in July 1977.
Highs on Friday are anticipated to range from 31 C (88 F) in London and Berlin to 35 C (95 F) in Paris and 40 C (104 F) in Madrid and approaching 43 C (110 F) in Seville, Spain.
Temperatures will continue to soar 6-12 degrees Celsius (10-24 degrees Fahrenheit) above normal in most of these cities through at least the weekend.
"It is not out of the question for temperatures to reach 49 C (120 F) in southwestern Spain and parts of southern Portugal Friday into Sunday," AccuWeather Meteorologist Tyler Roys said.
The impending heat wave is expected to be the most intense and longest for the Iberian Peninsula so far this summer.
Temperatures in Madrid have only reached 38 C (100 F) once so far this summer. Such temperatures are anticipated daily from Wednesday through next Tuesday.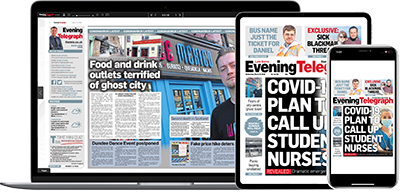 Help support quality local journalism … become a digital subscriber to the Evening Telegraph
Subscribe