A health expert believes stopping addicts feeling "worthless, hated and stigmatised" may help Dundee's drug problem.
Professor John Dillon from Dundee University was speaking at the third meeting of the city's drug commission, set up to tackle addiction issues.
At Wednesday's meeting, Professor Dillon and Ann Eriksen, executive lead for sexual health and blood borne virus, discussed their work in eradicating hepatitis C and reducing teenage pregnancies in Tayside, and how their experiences could help the commission. About 90% of hepatitis C infections occur in people who inject drugs, or have done so in the past.
Professor Dillon said: "Often drug users feel hesitant to access health services because as people they feel worthless, stigmatised and hated.
"I've spoken to patients and they have said, 'you're not as much of a ******* as I thought you would be.
"People will have been bruised by the health service and that must be addressed."
Mrs Eriksen said building a relationship with health professionals over time could make users more likely to continue engaging with treatment.
She said the "acceptance of drug addiction" could be tackled in a similar fashion to Dundee's teen pregnancy rate.
Rather than it being simply "accepted" that Dundee was the teen pregnancy capital of Europe, work was done to change that culture, Mrs Eriksen said.
Dr Robert Peat said: "We need to engage with people who are accessing these services and let them tell us what would really help them and be able to respond."
Members also expressed disappointment at the resignation from the commission of Dr Drew Walker, chairman of the Dundee Alcohol and Drug Partnership.
Dr Walker cited "competing work priorities" in his decision to step down without giving evidence to the commission.
He remains director of public health at NHS Tayside.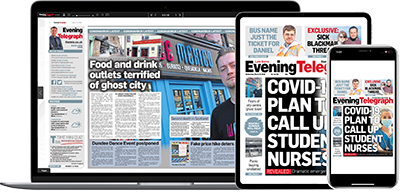 Help support quality local journalism … become a digital subscriber to the Evening Telegraph
Subscribe