Three World Cups, 50 caps for Argentina, River Plate, Roma, Benfica and Boca Juniors are all on his CV but superstar Claudio Caniggia says his time in Dundee was one of the best of his career.
Despite only a short stay with the club, after following former team-mates Ivano and Dario Bonetti to the east coast of Scotland, Caniggia left a lasting impression on fans of the Dark Blues.
And he's quick to return those feelings as he recalls the "beautiful games" he and his Dens Park team-mates played back in the 2000-01 season.
Speaking exclusively to the Tele, Caniggia said: "From my heart – it is easy to say these things sometimes but this I mean – I really enjoyed my time in Scotland a lot, it was such a great time.
"I remember how the fans were right away with me and I was welcomed by everybody and there were some really good people at the club who looked after me.
"I had a great time and the team did really well, too.
"We had a great team then with Gavin Rae, Barry Smith, Beto Carranza, Georgi Nemsadze and all of those guys.
"We had a great team, great guys and we could win against the best teams and played beautiful games – we would confront the best teams and did very well.
"We finished sixth and it was a great championship."
The Bonetti revolution at Dens Park hit its peak when World Cup star Caniggia signed in October 2000. He admits he didn't know too much about Dundee, having spent the majority of his career in Argentina and Italy, once he heard about the club from his former Roma team-mate Ivano.
He said: "I got some info about Dundee before I moved. I know Ivano Bonetti and his brother from my time in Italy, we played together in Italy.
"I knew them and some staff and that was enough for me to take the decision to go to Dundee.
"OK, I didn't know too much about Dundee but the coaches explained all about the city and the people and the stadium and everything so it was no problem.
"I am Argentine and used to travelling so it was no problem. I had plenty of experience, already 10 years in Europe.
"It was a small club and I had played in two World Cups but it was great for me – once I got used to the weather! It rained so many days!
"When I play football, though, it doesn't matter and it was a great place to play football and the Scottish people were great.
"I had played in Italy, the best championship in the world, played three World Cups and played in the best teams in Argentina – Boca and River Plate – but I enjoyed my time at Dundee as much as anything.
"I could have gone other places but I am so pleased I chose Dundee."
Now 51, the former Rangers man recalls his Dark Blues debut vividly – a 2-0 win at Aberdeen where he came off the bench to grab a superb second goal.
He added: "I remember the first game at Aberdeen – we won 2-0 and it was great. I came on in the second half. In the first, I saw everything – the way my team moved, the way the opposition moved and I knew everything about it and gave me a picture of the football.
"I came on in the second half and straight away our goalkeeper threw the ball and I got an elbow in the face off the ball! That was my welcome to Scotland!
"It was a great game, though – I really enjoyed it and we won 2-0.
"Then the home support was fantastic the week after. I was amazed at the great people and the stadium full of people."
*Claudio Caniggia will be at The Whitehall Theatre on Thursday, discussing his World Cup heroics and time at Dens with journalists Paddy Barclay and Alan Pattullo.
Tickets are still on sale via CC33.eventbrite.co.uk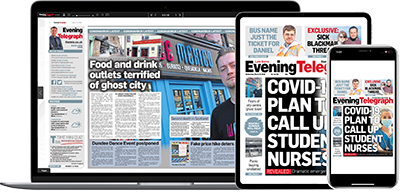 Help support quality local journalism … become a digital subscriber to the Evening Telegraph
For as little as £5.99 a month you can access all of our content, including Premium articles.
Subscribe