It's fever pitch as Lochee United await one of the biggest games in the club's history.
Fans are on tenterhooks ahead of the semi-final of the Scottish Junior Cup, which will see the Bluebells host Auchinleck Talbot at Thomson Park.
And in the build up to the big day, fans said whatever the result, it's going to be great for the area.
Eddie Geddes, 54, a barman from Lochee, said: "It's a great achievement. It's a competitive competition so they've done very well.
"I used to go to the matches a lot — with work I don't manage as often but I'll try my best to be there tomorrow.
"If they make the final I'll definitely be there. Here's hoping there's a big support cheering them on."
Amy Gardiner, 23, from Lochee, who works in customer service, said it's amazing the club have done so well. She said: "It would be sad if they fell at the final hurdle so I hope they get the result they need.
"Lochee is a nice community and I'm sure their fans from all over Dundee will be there. If they make the final, it'll be mayhem I'm sure."
Long-time Lochee United fan Gary Colligan, 46, said he was "buzzing" for the squad.
The Mid Craigie cleaner said: "It is tremendous for the city — hopefully the boys can do it.
"It is going to pay dividends in the future — it will be brilliant for the club and everyone involved with it.
"It really puts Lochee on the map and it is good for the whole of Dundee for a local club to be involved in something like this.
"I'm not going to make it to the second leg but I will be asking my friends who are going to keep me updated.
"If they get through to the final then I will definitely be going there to support them.
"I just want to wish George and all of the boys the best of luck — they have already done brilliantly."
George Shields' men take a 1-0 advantage into the tie following the away leg last weekend.
Lochee last reached the final in 2005 when they were beaten 2-0 by local rivals Tayport.
Club secretary Larry Duncan says the phone hasn't stopped ringing with fans asking about tickets.
He said: "We've been to the final before in 2005 when we lost to Tayport.
"We got to the semis a few years ago but it would be an amazing achievement if we could get back to the final.
"The number of people who have been phoning us, stopping us in the street and on social media asking about tickets has been brilliant and we're expecting a four-figure crowd."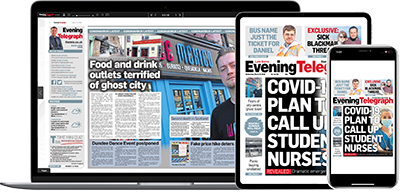 Help support quality local journalism … become a digital subscriber to the Evening Telegraph
Subscribe