Scotland's former chief prison inspector has been named as the chairman of the new independent inquiry into mental health services at NHS Tayside.
David Strang will lead the review, which was launched following a campaign by families who shared concerns about the treatment received by loved ones.
Mr Strang was HM Chief Inspector of Prisons for Scotland until last month, responsible for the inspection of the 15 jails in Scotland, examining the treatment of prisoners and the conditions in prisons.
He was previously chief constable of Lothian and Borders Police.
NHS Tayside Chairman John Brown said: "I am very pleased that David has accepted the role of chair of the independent inquiry.
"He has a wealth of experience that he will bring to the review and his appointment will assure not only the Board of NHS Tayside, but importantly all our stakeholders, that the inquiry will be open, honest, transparent and run with absolute integrity.
"We have taken the time to set up the independent inquiry with the full involvement of patients and families and it is thanks to them that we have made the appointment of the chair today.
Mr Strang was appointed the day after BBC Scotland aired Breaking Point – a 30-minute documentary examining stories of former patients of the Carseview Centre at Dundee's Ninewells Hospital.
The programme also took expert testimony from Professor Peter Tyrer, of Imperial College London, who called for Carseview to be closed due to it being "out of control".
Mandy McLaren, whose son Dale Thomson took his own life after leaving Carseview, welcomed the documentary but opposed calls to close the unit.
She said: "If they were to close Carseview then there would be nowhere for people to go.
"Change is needed – there is a culture of bullying and the staff need better training."
Gillian Murray, whose uncle David Ramsay took his own life after being turned away from Carseview, said that the programme "is just the tip of the iceberg".
"It showed what we have all been saying all along – there is a toxic culture within Carseview," she said.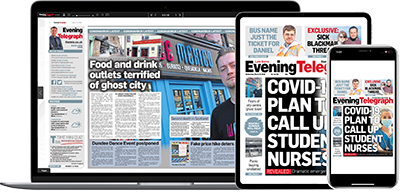 Help support quality local journalism … become a digital subscriber to the Evening Telegraph
For as little as £5.99 a month you can access all of our content, including Premium articles.
Subscribe