A Scots lawyer is suing a high-profile couple from Hawaii in a bid to silence a "growling" toilet at their Airbnb flat.
James Morris – a former partner in top law firm Blackadders, which has an office in Dundee – claims he and his wife are being kept awake at night by a malfunctioning macerator system at a property rented-out by Robert Curran and Jo McGarry-Curran, who lived in Honolulu.
The couple are well known on the Pacific island – with Mr Curran a high-profile sports broadcaster and his wife a vice president at international commercial property firm CBRE and a host of restaurant and food industry radio shows on Hawaiian radio.
The dispute centres on a broken Saniflo toilet system in a bathroom in a flat within a former fisherman's cottage in St Clair's Entry, Kinghorn, Fife.
The Morris couple want an interdict imposed so the system – which is of a type installed where normal plumbing wouldn't allow and that uses a grinding fan and pump to drain waste away – can no longer be used.
A proof hearing at Kirkcaldy Sheriff Court heard Mr Morris, 52, had kept a "detailed" diary of guest arrivals, departures and bathroom habits showing that the "awful grinding noise" had "ruined [their] lives".
He said he had compiled a diary – which included entries on Christmas Day – and said the "loud mechanical growling" sounded like a motorcycle revving or a chainsaw being started.
Solicitor Andrew McLaughlin, for the Currans, suggested to Mr Morris that "the level of detail and breadth of the account you have spent time collating would fairly be described as obsessive".
Mr Morris, who studied law at The University of Dundee in the 1980s, denied it was an obsession and said he was "gathering evidence".
He added that his records suggested American guests at the property tended to shower when they arrived at the flat – even late at night – and that women tended to use the toilet as soon as they got in.
His wife, Susan, 69, said: "The stress is dreadful. You don't know who is going to come in and what time they are going to come in at night."
An acoustics expert who gave evidence said the noise generated was well in excess of World Health Organisation guidelines.
He said: "Those guidelines say 30-35 decibels can bring people out of a deep sleep.
"The background level in the bedroom is 21 decibels.
"The source of the noise is the RPM of the macerator.
"The noise level recorded from the macerator is a a 12 to 17 decibel increase which is quite significantly higher than the five decivel increase that the guidelines specify as majorly adverse.
"This is likely to cause sleep disturbance."
The Currans are battling the action and evidence was led on their behalf about the lengths to which Mr Morris had gone to keep his records.
Suzanne Gilfeather, who works as a cleaner for Mrs McGarry-Curran, said she felt "intimidated" by Mr Morris's "unhealthy obsession" with recording all movements in and out of the property.
She said: "I wasn't aware of this at all.
"It's not a very nice feeling to be honest.
"I don't know of anybody who is going to work and has her conversations monitored and sometimes written down.
"I don't like the fact someone is closely monitoring my comings and goings to one of my places of work.
"He takes such an unhealthy interest in every day things at work – moving bins, going from room to room, whether I've got children with me.
"I feel intimidated and very uncomfortable."
Miss Gilfeather added: "I was aware I was being watched and monitored.
"It felt like stalking every time I was in."
Andrew McLaughlin, solicitor for the McGarry-Currans, asked: "Are you aware of what the neighbours think about it being an Airbnb?"
She replied: "I very much get the impression that it is a problem.
"She [Mrs Morris] has said we don't know who is arriving and who is coming and going.
"I'm not sure it's in your rights to know who is coming and going to your neighbouring property all the time."
Miss Gilfeather added that Jo McGarry-Curran had had to reject a number of booking requests made by newly registered Airbnb users who gave their home location as Fife.
She said: "It made her heavily suspicious that it was friends of Mr and Mrs Morris who wanted to have access to the property which was a great worry."
Sheriff Grant McCulloch continued the proof for further evidence on a date yet to be set.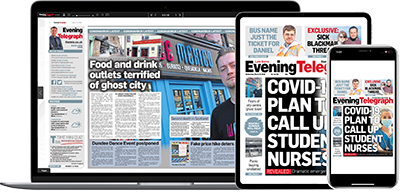 Help support quality local journalism … become a digital subscriber to the Evening Telegraph
Subscribe