As fans of Gillette Soccer Special might say, it was "unbelievable Jeff".
Members of a Dundee junior football club were stunned when they saw former Arsenal star Paul Merson wearing their club's official tie live on Sky for the final day of the football season on Sunday.
The ex-England international had made good on a promise from earlier this month, when he appeared at the Invercarse Hotel in Perth Road for an Evening With Paul Merson.
Attended by more than 300 guests, proceeds from the event on May 6 were going towards the continued development of Dundee North End JFC.
Committee members from the team – nicknamed the Dokens – had approached Merson about wearing the club tie during his role as a pundit for Sky's hugely popular Gillette Soccer Special programme.
And the former playmaker did not disappoint.
Merson was part of a panel reporting on the final day of the English Premiership season, and he wore the dark maroon and white tie of Dundee North End on Sunday.
Merson has now been hailed a "Doken Legend" for keeping up his part of the bargain.
Club president Robert Moran said the "down-to-earth" Merson had been asked on the night to wear it during a Sky Sports broadcast.
Mr Moran, 50, said: "We had Paul at the dinner on May 6.
"Paul had been approached about wearing the tie on the last weekend of the Premier League season.
"It was only the committee and the players who were aware of it.
"We didn't want to make it public in case for whatever reason he couldn't do it.
"Paul had been the most down-to-earth guy throughout the whole evening.
"He had been a top bloke getting pictures taken with guests.
"We had a really busy day at the club on Sunday with youth cup finals being played here but we were keeping an eye on the scores.
"To be fair the tie colour isn't too dissimilar to the Arsenal colours.
"Although it had been an informal discussion on the night I didn't see any reason why Paul wouldn't have done it."
Sky's flagship football programme, presented by Jeff Stelling, features a host of former footballing stars including Matt Le Tissier, Phil Thompson and Charlie Nicholas.
Since becoming a regular analyst, Merson has proved a huge hit with fans of the show, developing a reputation for exuberant and energetic match commentaries.
Last year he managed to slip 12 Oasis songs into his live commentary in aid of charity.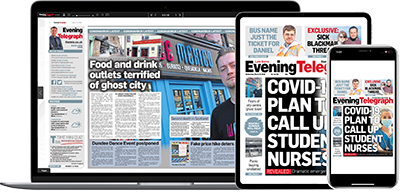 Help support quality local journalism … become a digital subscriber to the Evening Telegraph
For as little as £5.99 a month you can access all of our content, including Premium articles.
Subscribe