I travelled to the Scottish Parliament last week for the budget meeting with members of the Scottish Unemployed Workers' Network (SUWN).
The Dundee-based group was joined by campaigners from across Scotland calling for progressive taxation for welfare mitigation.
They were seeking a £5 increase in child benefit, as well as greater investment in the Scottish Welfare Fund and discretionary housing payments.
Outside Holyrood before Finance Secretary Derek Mackay's speech, Sarah Glynn, an SUWN organiser, addressed the demonstrators.
She said: "In Scotland, 465 people per day rely on food parcels from foodbanks to survive.
"The Scottish Government talks about dignity, fairness and respect, so we call upon it to use this vital opportunity to make an investment in the lives of people experiencing crisis."
Sarah added: "We know that Scottish powers are limited and we are ready to believe that, if we had control over welfare, the situation would be much improved.
"But Scotland does have the power to provide more help where it is most needed, and the power to raise money through more progressive taxation to pay for this without making cuts elsewhere."
I am neither a member nor supporter of any political party but I would say I have been broadly supportive of the SNP's stewardship of the economy.
The abolition of student debts, the provision of free school meals and the establishment of the Scottish Welfare Fund are all commendable.
However, as I sat in the public chamber at the Scottish Parliament for the budget address last week, it struck me as unremarkable.
Mr Mackay promised "certainty and stability for Scotland" in the face of "a UK Government engaging in systematic damage of our economy".
There was crucial investment in local government, healthcare provision and affordable housing, as well as education, but no reference to any of the investment requests made by the Scottish Unemployed Workers' Network.
It was also a window into the state of politics in Scotland.
Apart from the poor concessions secured by the Scottish Greens, there were embarrassing Doctor Who analogies from the Scottish Conservatives, a pitiful defence of a decision not to invest £250,000 to lift 15,000 children out of poverty from a former social security minister and another cabinet member who, at one point, laughed so hard she fell off her seat.
I think most will understand a degree of fiscal caution on the eve of Brexit but what felt more distressing than the lack of investment in efforts to alleviate poverty was a poverty of political vision for Scotland.
I caught up with Sarah for her post-budget reflections and she said simply: "The SNP are taking for granted the support of the working-class people of Scotland."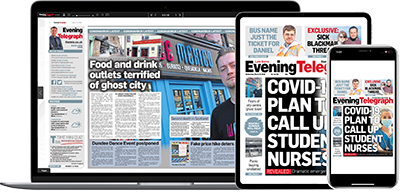 Help support quality local journalism … become a digital subscriber to the Evening Telegraph
Subscribe