As many as 75 people a year in Dundee die unnecessarily as a result of air pollution, an environmental charity has claimed.
Two of Dundee's busiest streets – Seagate and Lochee Road – continue to be among Scotland's worst-polluted, according to figures released by Friends of the Earth Scotland (FoES).
It is asking for "energetic" action to be taken to prevent any further pollution-related deaths.
The FoES study shows both the Seagate and Lochee Road continue to harbour harmful amounts of nitrogen dioxide (NO2).
European guidelines suggest streets should have no more than 40 microgrammes of NO2 per cubic metre of air – a standard that has been in place since January 2010.
Despite this, Seagate has an average concentration of 43.42 microgrammes, and Lochee Road has an average of 43.05 microgrammes.
Only a handful of streets in Glasgow and Edinburgh have higher concentrations of NO2 in the air.
Andrew Llanwarne, Tayside co-ordinator for FoES, said the "poisonous" conditions were linked to up to 75 early deaths each year.
He added: "Efforts to tackle the problem have achieved some improvements, yet Seagate and Lochee Road still exceed the legal limits for toxic nitrogen dioxide, while other city centre streets are just within the legal limit.
"We look to the city council to act more energetically to protect the public by designing and implementing the low emission zone throughout the city centre."
FoES obtained its data from the city's automatic monitoring stations and says excessive levels of NO2 are linked to breathing problems, dementia and restricted development in unborn babies.
Gavin Thomson, national air pollution campaigner, said: "Dundee City Council must implement a low emission zone by 2020, and this data shows how much it is needed. The public health consequences of air pollution means we need to act with real urgency."
The council has previously said it is considering "radical" solutions for the city's low emission zone, which is set to come into effect next year.
Councillor Alan Ross, convener of Dundee City Council's community safety and public protection committee, said: "We want to restore the balance of these streets in favour of people rather than traffic which will make them safer, more convenient and improve air quality."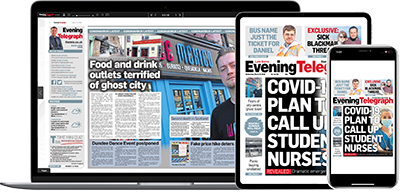 Help support quality local journalism … become a digital subscriber to the Evening Telegraph
For as little as £5.99 a month you can access all of our content, including Premium articles.
Subscribe