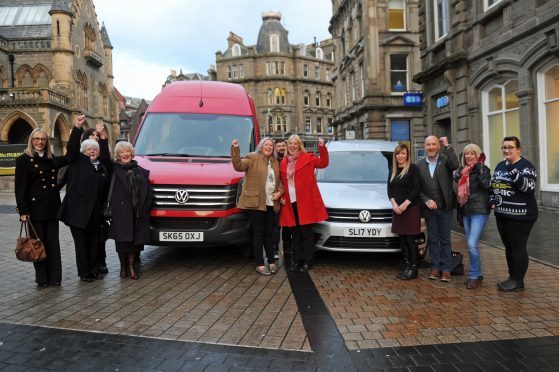 A Dundee disability group which had its lifeline vehicles torched beyond repair is mobile again thanks to Tayside Euromillions winner Gillian Bayford.
The Inclusion Group was left without transport after its wheelchair-accessible van and car, which were parked outside the group's offices in Meadowside Lane, were set on fire last month.
It had taken years to fundraise for the vehicles, which were used to pick up and drop off service users at events and activities.
On reading about the group's plight, Gillian — who scooped a £148 million jackpot with her ex husband in 2012 — stepped in to help, gifting them a new minibus and a VW Caddy van. Both are wheelchair-accessible and can transport more users than the old vehicles.
Inclusion Group manager Fiona Flynn said Gillian's act of kindness means "Christmas had come early" for service users.
"When I heard Gillian was going to kindly give us two new vehicles, I was over the moon," she said.
"It's just fabulous — an amazing early Christmas present. We're having a Christmas disco and we'll now be able to take people home after it."