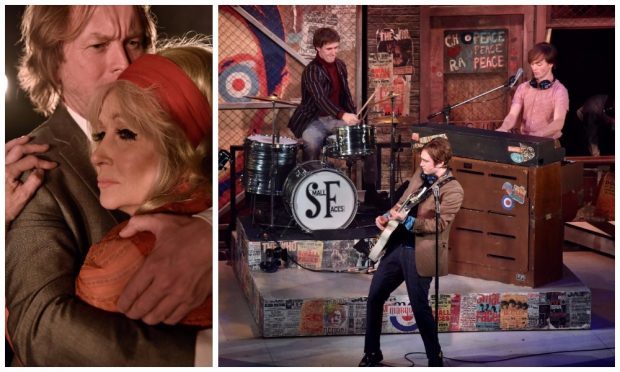 A mod musical based on the sounds of The Small Faces is coming to the city.
All or Nothing arrives at Dundee Rep for the first time next week and promises to showcase a "trans-generational musical experience celebrating the unique sound of the iconic mod band".
The Small Faces were a four-piece band who originated from the streets of East London in the 1960s — the height of the mod era.
The band were said to be revolutionary and their music influenced the likes of The Jam, Oasis, Blur and the Arctic Monkeys.
Now, their story has been turned into a musical written and directed by Carol Harrison, who is best known for her role as Louise Raymond in EastEnders.
The show strives to celebrate the iconic band with a line-up of classic songs including Lazy Sunday, Tin Soldier, Here comes the Nice and, of course, All or Nothing performed live.
The performance highlights the "perks and pitfalls" of the music industry while making the audience laugh, dance and sing along.
Speaking to the Tele, Carol said: "It isn't just a tribute act to the band, it is a performance that tells the story alongside their greatest hits."
The Small Faces played at Dundee's Caird Hall in 1972 and Carol spoke of the importance of allowing those who lived through the era to reminisce about mod culture.
She said: "We really have made sure the performance shows just how exciting the mod era was — and still is 50 years on.
"We really want to make it feel like the audience are there in the 1960s.
"Going by the reception, I think we have managed just that.
"People are coming back five or six times to see the performance and that is just amazing."
Although it is the musical's first time in Dundee, it has been performed elsewhere in Scotland — much to the delight of audiences around the country.
Carol said: "The best reception we have ever had was in Glasgow. It was absolutely packed and everyone was up on their feet."
Carol grew up streets away from Small Faces lead vocalist Steve Marriott.
She said: "My aunt lived two streets away from his mum, my cousin knew him, and another cousin was in a band with him.
"He came round to our house when I was eight years old and he was just this amazing bundle of effervescence and talent.
"I had a bit of a crush on him. I loved the music, I loved their humour, and they were just mod like me.
"You know what they say — 'Once a mod, always a mod'.
"I grew up in the 1960s and I loved their music."